NC Attorney appears on Jeopardy! for 400 Alex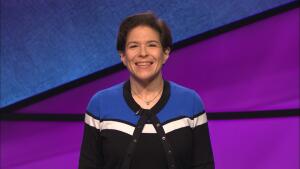 For years Jeopardy! has been a staple in many households.  At some point, all of us have spent an evening on our couches yelling answers at Alex Trebek and calculating our imaginary winnings. For one Charlotte attorney, years of watching Jeopardy! paid off when she found herself a contestant on the show. Julie Bradlow, a Charlotte tax attorney, appeared on Jeopardy! on February 1, 2017. We had an opportunity to talk with Julie about her experience on the show.
LM: Can you tell us a little bit about yourself.
 JB: I am originally from New York City. I have a B.A. in French from Yale University, and received my J.D. from the University of Chicago Law School. I clerked for a federal judge in Indiana, and practiced tax law in Chicago and Norfolk, VA before moving to Charlotte in 2000.
LM: What was the process like in becoming a contestant on Jeopardy?
 JB: I took an online test on the show's website in January 2015 and was invited to audition in Atlanta in June 2015. I received the call from Jeopardy! in October 2016 and taped my episode, which aired February 1st, in November 2016.
LM: Is appearing on the show something you've always wanted to do?
JB: I have been watching the show since the 1960s, when Art Fleming was the host. Back then, my mother was the one to shout responses at the television!  Somewhere along the way, during the beginning of the current version of the show that Alex Trebek hosts, I was the one shouting at the TV!
LM: How were you notified that you were going to be on the show and what was your reaction?
JB: I received a call from one of the show's contestant coordinators. I was at the office, which was the only reason I didn't jump up and down screaming!  I was very excited,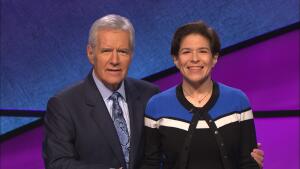 though!
LM: Can you tell us what the "Jeopardy experience" was like?
 JB: Being on the show was a great experience. Everyone on the Jeopardy! staff and crew were exceptionally nice. The highlights were being made up by an Emmy-nominated makeup artist and being introduced on national television by Johnny Gilbert!
LM: What is your favorite memory of your time on the show?
JB: My favorite memories of the show are all the wonderful people I met, ranging from the staff on the show to my fellow contestants to Alex himself.
LM: If you could go back and do it all over again what would you do differently?
JB: I would not change a thing -- except perhaps winning more money!

LM: Is there anything I haven't asked that you would like to add?
JB: The practice of tax law and being a trivia enthusiast are very similar. Both require attention to detail and quick problem solving!