LM Feature: John Szymankiewicz | Beer Law Center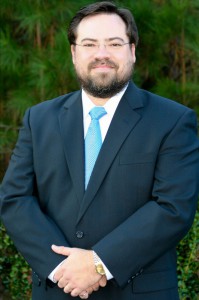 Brew kettles, wheat, barrels and beer bottles—No you're not in a brewery, but you've landed on the Beer Law Center's homepage. Everything from the branded beer bottles to the bottle top 'subscribe' button, lets you know that beer is serious business here. Attorney, John Szymankiewicz with the Matheson Law Office. PLLC launched the Beer Law Center in January 2012. We had the opportunity to ask John more about this hot niche practice focused on cold brews.
LM: Beer Law Center is a division of the Matheson Law Office, PLLC. What led you to launch Beer Law Center?
JS: Well, it's not a long story, but it is a different one: I came to the law as Career 2.0. See, my background is in Chemical Engineering and I worked as an engineer and project manager for about 15 years before I went to law school. When I went back to law school, I knew I wanted to so something with craft beer. I've been a homebrewer for nearly 20 years now and I've loved the industry and the people in craft beer. It's natural for someone like that to think "hey! I ought to start a brewery!" But, I'm at a stage in my life where shoveling hot, wet grain out of mash tun or starting a batch pre-dawn is not my idea of a good time anymore.  So, I decided that what I really ought to do is help other people chase that dream. Tadaa. Beer Law Center was born.
LM: As the North Carolina craft beer industry is growing, we are seeing an increase in niche practices in this area. What sets Beer Law Center apart from other practices?
JS: It's interesting. From 2012 to probably mid-2015, I got at least one or two calls a week from someone wanting to know how they could become a "beer lawyer." The first thing I told them was "marry well, so you won't need to worry about needing to make a living." Of course I'm being facetious, but there is a kernel of truth there. Craft beer people are, in my mind, the quintessential "rugged individualist." If they can do it themselves, they will. Additionally, they are almost always trying to start a brewery on a very tight budget.  Those two things together make it very difficult to pitch legal services to startup craft breweries – and startup is when they arguably need the most help! So, against that backdrop, Beer Law Center differentiates itself by focusing on tailored legal services to fit their budget – from full representation, to guidance and coaching, to just review of their completed work before it gets submitted or executed. We pride ourselves on working with folks to make sure they get what they need and feel like they've gotten good value for their money. It doesn't hurt that, with my background, I can talk recipe development, pump sizing, welding, sanitation, process, and ingredients with folks as a partner rather than just be a voice on the phone or a guy in a tie.
LM: Beer Law Center operates mostly as a virtual law office. What are the advantages of this business model?
JS: We're a very small office, Beer Law Center is just me and my paralegal, so we can be very flexible and try to keep our costs as low as possible. The vast majority of brewery startups are folks that already have a day job, and they're trying to keep that source of income as long as they can. So it's important for us to be able to go to where they are when they need us. Matheson Law Office maintains offices downtown, and we work from there a lot. But, it's hard to ask folks to take time off work, drive downtown and park, for just a meeting. We do lots of meetings in people's favorite pubs, their under-construction brewery, or their dining room table. We tell clients that "we want to be that first phone call [when there's an issue]." And breweries, and their taprooms, rarely keep regular business hours. So that also means that we need to be flexible enough to answer questions at 10p during the week while the owner is – finally – checking their email or at 2p on a Saturday when someone has a question about what they can or can't do at a festival (often asked as they are currently pouring beer). Not being a morning person myself, I like the flexibility of the model we use.
LM: I see that your firm has a blog. How important do you feel not only blogging but social media as a whole is for lawyers?
JS: Uh, thanks for calling me out on the blog I haven't updated in, like, a year. Falling into the typical lawyer "do as I say, not as I do," I think blogging is super important. Many of the questions I get from new or potential clients are very similar. Lots of folks are worrying about the same sorts of issues. Blogging gives me the opportunity to coalesce these questions into common topics and go into more general discussion and education – without the client worrying about "am I paying for this time?" Additionally, it's a great opportunity for folks to gauge whether you know what you're talking about or if you're just saying you're a beer person. We're actually in the processing of moving to more video blogging and content to make it even easier to try and connect with folks about the issues they're interested in. Social media is a different beast. Craft beer people, whether breweries or retailers or whatever, are very savvy on social media. If you can't be there in person supporting clients or potential clients, you need to be there virtually. I'm constantly tweeting and Facebook-ing and LinkedIn-ing (?) stuff that my clients or other beer people might find interesting. But, it's a fine line. Moseley Matheson, my law partner, practices exclusively criminal law where social media is a bit different – not many people post on Facebook "Hey! Guess what I did this weekend! Anyone know a good DWI attorney?"  But with our clients most are on social media at least daily and their smartphones rarely leave their hand, so, again, we need to be where they are.
LM: What advice do you have for anyone who is looking to branch out and start a niche practice?
JS: Did I already say "marry well?" Other than that, there are two things: 1) do it because you love it and 2) be there.  The first idea that sticks out to me is that you need to pick an area you really like. Don't go into Beer Law because it sounds cool and you think you make money. I spent years building up a very focused practice with a lot of months where I wasn't sure if I could make the rent payment – and that was when there were far fewer people trying to do it. So, don't go into a niche practice, especially as a solo attorney, unless it's a topic you really love because it can be a hard slog to get to a steady level of work. When I say "be there," what I mean is that I believe you have to dedicate yourself to that niche. Unless you've already developed a niche practice in a large firm and are looking to go solo, you're probably going to enter the niche market where no one knows you. I know for my clients, you really have to be seen over and over offering advice, helping folks, etc. before they think "ok, this guy is serious and it sounds like he knows his stuff, I'll try hiring him." So, at least for me, it seems critical that you're at the industry events, you're on social media engaging with folks, you're at events your clients go to, etc. Wherever "there" is, you need to be there.
LM: What changes do you see in the future of law or what challenges do you face in your practice?
JS: We all know that the face of law is changing and I'm not sure we know what "normal" is yet, at least for small business attorneys. There is more free information about legal issues available to the public now than ever before. There are self-service sites that allow any individual to fill-in forms that superficially appear right. And at bargain basement prices. While I love technology and the interwebs, I'm concerned that people aren't parsing good information from bad information – the website looks professional, so it must be good information, right? Between the availability of self-serve sites and the apparent abundant information, I think a lot of the public doesn't value the work a lawyer does. Or they don't value the time it takes to do the work. Some people see being a lawyer as a scam – "well, you're just going to take some forms and fill them in anyway. I can do that!" Maybe, but there's a more than 50% chance that what you may come up with on your own isn't what you want or what you need. And sometimes convincing people of the value of a lawyer can be difficult. Self-serve sites and so forth have a place but, as a profession and serving individuals and small businesses, we need to be illustrating to folks the value we bring to the table and when you do (and maybe when you don't) need a lawyer.
LM: What's the most rewarding aspect of your practice?
JS: One of the things I like best about my practice is that I get to work with people that are passionate about what they do. Most are chasing a dream and are betting the house, the IRA, whatever. They're committed and they want to create. When you work with folks like that their energy and passion are contagious. So, I love seeing their visions come to fruition. That first pint I have at their taproom always tastes really good. Plus stainless steel is nice and shiny!
LM:  What is one of the most valuable lessons you have learned through the process of launching a niche practice?
Have faith. If you're breaking into an area that's new for you, you're going to have a lot of disappointment, a lot of lean months, etc. But, if you're committed and hang in there, it will work out.
LM: Is there something you would like to add that I haven't asked you?
"Can I buy you a beer?"
John Szymankiewicz is a licensed Professional Engineer and Attorney in North Carolina. Embarking on a second career, John went to law school at night while juggling a demanding full time job, a family, and teaching at a local martial arts school. n addition to being a lawyer, John is an avid homebrewer who got bit by the brewing bug shortly after he discovered that beer need not be yellow fizzy stuff. John believes in continuous, life-long learning and is passionate about the Craft Beer industry. Part of that industry passion includes adopting the spirit that that giving back to the community and supporting the local, independent business person is part of our responsibility as good Beer Citizens. You can reach John at John@beerlawcenter.com or 919.792.8740