Lending Library: Trial Prep for Paralegals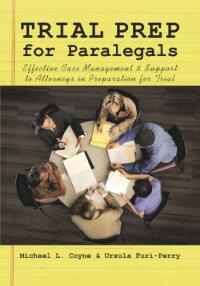 Whether you have worked as a paralegal for years or just starting out in the industry, this book is a great resource. Behind every great trial lawyer is a team of great staff which includes other attorneys, legal assistants and of course paralegals.
This handbook provides valuable tips about the litigation paralegal's many functions: gathering information, interviewing, case file organization, correspondence and more.
Trial lawyers rely on their legal staff so it's imperative that they fully understand the litigation process. Some of this book's key features include:
Organizational tips
Trial prep checklists
Tips for interviewing and investigation
Case management strategies
Tips for mastering discovery, including e-discovery
The Lawyers Mutual Lending Library is a free service provided to all insureds and their support staff. We offer a wide range of titles from subject matters including: marketing, networking, starting a law practice and social media. Please visit Lawyers Mutual Lending Library on our website to browse our selection.
If you've found a book extremely helpful, we would love to hear from you. We encourage book reviews and are excited about sharing them on our website. Please email all reviews to social@lawyersmutualnc.com.