Lending Library: The Lawyer's Guide to Records Management & Retention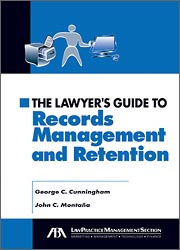 Whether you work in a large firm or you're flying solo, proper records management is imperative. What exactly does records management have to do with the practice of law? The opening of The Lawyer's Guide to Records Management and Retention sums it up: "Records management is about client service, attorney support, legal and ethics compliance, risk management and cost control." 
This book is intended to help firms effectively establish ways to manage records and information in their firm. This book explores:
The benefits of records management
Ethics and records management
Records retention schedules
Electronic documents
Training you staff
The Lawyers Mutual Lending Library is a free service provided to all insureds and their support staff. We offer a wide range of titles from subject matters including: marketing, paralegal resources, starting a law practice and social media. Please visit the Lawyers Mutual Lending Library on our website to check out our selection.
If you've found a book extremely helpful, we would love to hear from you. We encourage book reviews and are excited about sharing them on our website. Please email all book reviews to social@lawyersmutualnc.com.