Legal Issues Swirl Around Pokemon Go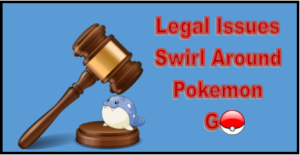 The popular digital game Pokemon Go has become a worldwide sensation, and it's creating legal havoc as well.
Police are making arrests, lawyers are arguing about privacy, and players are tumbling off ocean bluffs.
Pokemon Go is the "augmented reality" game based on the enormously popular Nintendo cartoon character from the 90s. The object is to find virtual Pokemon that "appear" in actual locations in the real world like parks, beaches and even bathrooms. The game makes use of smartphone screens and GPS to lead you on the hunt.
Pokemon Go was one of the most downloaded apps ever, and more than 21 million people are playing in the US alone. Initially, some health professionals hailed Pokemon Go for getting kids outside and encouraging social interaction. But soon came reports of accidents, injuries and trespasses:
Two men stumbled off a cliff in California while engrossed in Pokemon Go. They survived with moderate injuries.
Police in Australia had to remind players to "look up, away from your phone and both ways before crossing the street."
A player in Wyoming stumbled across a dead body in the woods while searching for water Pokemon.
Police in Washington had to warn people not to play Pokemon near the police department late at night.
Police in Fallon, Missouri arrested four teens for robbing 11 people after luring them in with Pokemon Go. Most of the victims were alone and oblivious to anything but their phone screens until they noticed the gun in their face.
And a Miami Herald reporter tweeted: "I'm told there are Pokemons in the courthouse hallways. I have no idea what that means, but they better not approach the jurors."
Legal Questions
Some lawyers are warning of legal and safety concerns. A law blogger in Alabama poses these questions:
Does placing a Pokemon character on a private property, without permission, affect the owner's interest in exclusive possession of the property?
Does it create an attractive nuisance?
Does owning real property extend property rights to intellectual property elements that are placed on it?
Is there liability for placing the characters on private property or in dangerous locations?
Michigan lawyer Brian Wassom writes that Pokemon Go might cause disruptions and even violence in public spaces. Could government step in and regulate? Would this raise First Amendment issues?
Law Newz even hosted a special Live Facebook session to discuss emerging Pokemon Go issues.
Play At Your Own Risk
One issue seems more or less settled. If you are injured playing Pokemon Go – or if you hurt someone else – too bad. The company is likely not liable.
A warning to that effect pops up every time you play. Plus, the terms of service state: "The Pokémon Company ("TPC") and TPCI disclaim all liability related to any property damage, personal injury or death that may occur during your use of our Services, including any claims based on the violation of any applicable, law, rule or, regulation on your alleged negligence or other tort liability."
So, remember: play Pokemon Go at your own risk. Just be sure not to wander too close to the courthouse, police department or a steep cliff.
Sources: