Lawyers Who Use Their Heads, Hands and Hearts to Help Others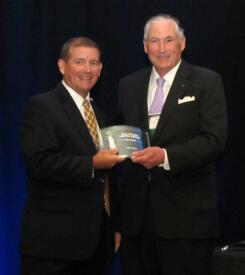 "Nobody in this world gets by on their own – we all need a support network."
So says Will Graebe, claims vice-president at Lawyers Mutual, who puts that philosophy into action as chair of the Missions Committee at his church.
For his good deeds, Will won a 2013 N.C Bar Association Citizen Lawyer Award.
Will spends most of his waking hours helping people.
He spends his days solving malpractice problems for lawyers from Dunn to Duck. When he finishes up at the office he rolls up his sleeves – often literally – with Soapstone United Methodist Church and a handful of other groups, where he does everything from hauling furniture to helping orphans with homework.
And it's not just Will – the whole Graebe family pitches in. They first became interested in mission work when Soapstone sponsored a young girl through the Children of Chernobyl program. This led to involvement with Wake Interfaith Hospitality Network, the Support Circle homelessness program and the ZOE empowerment ministry, which works with African children orphaned by HIV/AIDS, war, disease and famine.
Like all of us, Will has family and personal responsibilities in addition to a demanding professional gig. Unlike many of us, he keeps on giving after he has hung up his lawyer hat for the day.
2013 NCBA Citizen Lawyers
Established in 2007, the NCBA Citizen Lawyer Award recognizes those like Will who go above and beyond their professional duty to also serve their communities as coaches, volunteers, mentors, caregivers, homebuilders and friends.
Here are the other 2013 NCBA Citizen Lawyer recipients, along with just a few of their civic and charitable contributions:
Janet Ward Black (Ward Black Law, Greensboro). She has given her time and talents to Mercy Mission Teams, the Volunteer Center of Greensboro and the Women's Resource Center of Greensboro. She is also a member of the C12 Christian CEO and Owners Group and the Women Presidents' Organization.
R. Lee Farmer (R. Lee Farmer PLLC, Yanceyville). Former chair of the Piedmont Triad Chambers of Commerce, he was also president of the Caswell County Chamber of Commerce, the Piedmont Community College Foundation, the N.C. County Attorneys Association and the N.C. Municipal Attorneys Association. He also coaches in the Caswell County Midget Football League.
Judge Robert C. "Bob" Hunter (N.C. Court of Appeals, Marion). A former treasurer of the N.C. Healthy Start Foundation, he has served on boards at the Maxwell M. Corpening Jr. Memorial Center, Friends of Lake James State Park and Southmountain Children's Services.
Charles M. Ingram (Ingram & Ingram, Kenansville). An energetic Mason, he was Grand Master of Masons in North Carolina and chaired boards for the Masonic Home for Children in Oxford and the Masonic and Eastern Star Home for Seniors in Greensboro. He also served four terms as president of the Duplin County Historical Society.
Craig T. Lynch (Parker Poe Adams & Bernstein, Charlotte). A national board member for the MS (Multiple Sclerosis) Society, he has also done volunteer work at Olde Providence Elementary School and South Charlotte Middle School and coordinated Habitat for Humanity projects at Providence United Methodist Church.
Valecia McDowell (Moore & Van Allen, Charlotte). Co-chair of the Charlotte-Mecklenburg Cultural Life Task Force and the Mecklenburg County Bar APEX Mentoring Program, she is also a board member of the Council for Children's Rights, the Community Building Initiative, the Charlotte Chamber of Commerce, the Charlotte-Mecklenburg Schools Cultural Competence Framework Task Force and the Z. Smith Reynolds Community Leadership Council.
Lacy Presnell (N.C. Department of Environment and Natural Resources, Raleigh). Chair-elect of the Triangle Community Foundation, he volunteers at the Alexander YMCA, StepUP Ministry and White Memorial Presbyterian Church. He is also past president of YMCA of the Triangle Area and past chair of the Ravenscroft School Board of Trustees.
Craigie D. Sanders (K&L Gates, Research Triangle Park). Vice chair of the N.C. Governor's Council on Sickle Cell Syndrome and second vice president of the N.C. Association of Black Lawyers, he has also served on the Durham Planning Commission and was president of the Durham Inter Neighborhood Council.
Gray Styers (Styers & Kemerait, Raleigh). Active locally at Raleigh Moravian Church, he has also worked nationally with the Moravian Church in America. He volunteers with Big Brothers Big Sisters of the Triangle and chaired the Wake County Industrial Facilities and Pollution Control Financing Authority.
Sharon A. Thompson, Attorney (Of Counsel, NicholsonPham, Durham). A two-term legislator in the N.C. House of Representatives, she has remained active at the General Assembly as a lobbyist for Planned Parenthood, the North Carolina ACLU, the NC Association of Women Attorneys and NC Legal Services. She co-founded the NCAWA in 1978, was a founding member and first president of the NC Gay and Lesbian Attorneys and served on the boards of the Planned Parenthood of Central NC Action Fund and Equality NC.
Gerald L. Walden Jr. (The Fresh Market, Inc., Greensboro). Chair of the Guilford County Juvenile Crime Prevention Council, he is on the Guilford College Board of Visitors and he mentors law students from NCCU, Elon and UNC. He also serves on the NCBA Minorities in the Profession Committee and is on the board at the Triad Health Project.
Leigh A. Wilkinson (Ward & Smith, New Bern). Former chair of the New Bern Area Chamber of Commerce and charter president of the NCSU College of Physical and Mathematical Sciences Alumni and Friends Society, she has served Civitan International at the local, district and international levels. She also volunteers at the Coastal Women's forum, Bear Town Bears, Big Brothers Big Sisters, Craven CARES and Twin Rivers YMCA.
"Missions work for me is just being there for someone else who could use a hand," says Graebe. "The bonus is the people I get to know along the way."
So what are your plans after you leave the office today?
Jay Reeves a/k/a The Risk Man is an attorney licensed in North Carolina and South Carolina. Formerly he was Legal Editor at Lawyers Weekly and Risk Manager at Lawyers Mutual. Contact jay.reeves@ymail.com, phone 919-619-2441.
Source: N.C. Bar Association http://www.ncbar.org/about/communications/news/2013-news-articles/2013-ncba-citizen-lawyer-awards-presented