Lawyers Take Off Gloves in TV Ads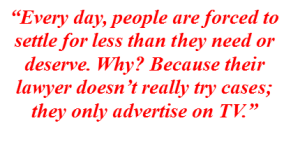 "Every day, people are forced to settle for less than they need or deserve. Why? Because their lawyer doesn't really try cases; they only advertise on TV."
That's from a television spot lawyer Geoffrey Fieger is running in Detroit. The ad blasts Fieger's competition so blatantly it practically calls them out by name.
This represents a new trend, says Bloomberg Business. There have long been nasty lawyer ads. Now they're getting personal, too, with lawyers taking a cue from political attack ads and going after their competition with direct criticism.
The reason is two-fold. One is that competition is tough, particularly in cities like Detroit. The other is that TV ad buys are cheap and getting cheaper. New cable, digital and streaming outlets are emerging. This allows smaller firms to get into the game.
The result: television ad houses are thriving.
Good News For Mad Men
"The rise of such ads is tied to a slowdown in legal services and increasing competition among plaintiffs' firms, big and small," Bloomberg reports. "Many national legal practices, which have seen revenue growth slow since 2008, are going after potential clients they previously left to small, local law firms."
Spending on lawyer advertisement was $820 million in 2015. That figure could rise 300 percent this year, says Bloomberg. Fieger, a high-profile lawyer known for representing Jack "Dr. Death" Kevorkian, will spend a chunk of that. He is reportedly doling out $4 million on TV ads alone in 2016.
"[Fieger] has felt pressure to differentiate itself from competitors who aggressively go after as many fee-generating cases as possible and try to settle quickly, says Alan Sussman, who created the ads. Fieger and others have to sort of delegitimize [the competition] by saying, 'These guys are just a national firm. They're just trolling for clients. We're in your community.'"
One law firm in Florida has gone the other way. It aired a spot containing 30 seconds of silence, in order to stand out from the nasty, noisy pack.
"No voices, just words flashing across the screen: 'We get it. There are a lot of lawyer ads on TV. Seems all you hear are lawyers talking. So this 30 seconds of silence is brought to you by Searcy Denney Scarola Barnhart & Shipley.'"
LinkedIn comments
When the Bloomberg story was shared on LinkedIn, lawyers weighed in:
"I was appalled when I read this but the truth is that there are a lot of lawyers advertising for clients who don't really know what they are doing. Someone should call them out because many consumers only look at cost and a $50 will may not be as good as one that costs more. I think that I would rather see more training and certification. Next you will have insurance companies funding ads at cheap rates for lawyers they know they can beat."
"I don't think effective marketing or advertising need involve mudslinging or rock throwing at colleagues. It diminishes all of us."
"Are clients 'consumers'? Perhaps therein lies the problem, the perception itself."
"The legal industry is in the throes of one of the most dramatic changes impacting the promotion of legal practices. There are two main reasons. One the competitive and economic factors have already had an impact. The second reason, is ethics issues and guidelines have limited the ability to market and differentiate practices. These two factors must be overcome in order to generate a marketing program that will grow a practice.
What do you think of Fieger's ad? Television advertising in general? Send us a comment.
Sources: