Lawyers in Transition Toolkit Part Seven – Come Up With A Plan Plan Today for a Smooth Transition Tomorrow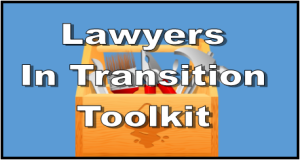 The best way to ensure a successful transition from the law is to have a plan – and the sooner you start planning, the better.
For retirement, experts say planning should be well underway by age 60. But don't panic if you're not quite there.
"If you are older than 60, don't despair," writes Lawyers Mutual claims counsel Mark Scruggs. "Just get started now. For most of us, there's a lot to do before we leave the practice. A year or two may not be enough time to do it right."
A transition plan is critical. It is a roadmap for your exit strategy. It will guide your decision-making along the way.
A good plan establishes measurable goals and specific deadlines. You can monitor your progress at regular intervals – every 90 days or six months, for example.
And a good plan will be flexible enough for the inevitable curve balls that will come your way.
"Unforeseen events occur that must be dealt with quickly, before negative financial consequences become severe," says Chron Small Business. "Planning encourages the development of 'what-if' scenarios, where managers attempt to envision possible risk factors and develop contingency plans to deal with them."
For North Carolina lawyers, a good place to start is the NC Bar Association's Transitioning Lawyers Commission. There you will find a wealth of resources. You can even request a consultation with an expert to talk you through important issues.
Full Spectrum Planning
You might equate transition planning with financial planning. But finances are only part of it. A comprehensive plan will cover the full spectrum of your life:
Time and money resources. How will you maintain your lifestyle when you retire? How will you provide for yourself and your family? How much should you be saving now? What type of pension or retirement accounts would work best?
Health. People who practice healthy habits live longer, have higher cognitive abilities, fewer medical issues and greater independence. Start building those habits now.
Relationships and loved ones. When you make a professional transition, your relationships will change. Perhaps you will be spending more time at home. Or your free time might lead to new activities and friendships. Put your priorities down in writing.
Vocation. Do you plan to continue working part-time? In the law or in a less stressful field? Maybe you've always dreamed of teaching. Or perhaps you'd love to try something completely different. Now is the time to go for it.
Five Practice Tips for Coming Up With a Plan
Begin now. Even new attorneys can start envisioning their ideal life after the law. This vision will help keep you on track and avoid distracting detours.
Contact the NCBA. The Transitioning Lawyers Commission can help guide you through this phase of your journey.
Plan for work-life balance. "I want to embrace my role as a legal ambassador, but I want to leave the profession on my terms and have a plan for my next great life," writes attorney Dana H. Huffman. "Strategic plans are meant to be individualized and personal. So if you are ready to be strategic about your life, incorporate the ideas that apply to your life, your family, your situation, and abandon without guilt those that do not apply."
Follow the AARP's 10-Step Plan. This helpful template covers all your basic planning needs.
Keep it positive. Have fun with your transition plan. See it as an adventure, a treasure map, the next chapter in your memoir!
Don't forget to check out other posts in our Lawyers in Transition series:
Sources:
Jay Reeves practiced law in North Carolina and South Carolina. During the course of his 35- year career, he has been a solo practitioner, corporate lawyer, legal editor, Legal Aid staff attorney and insurance risk manager. Today he helps lawyers and firms succeed through marketing, work-life balance and reclaiming passion for what they do. He is available for consultations, retreats and presentations (www.yourlawlife.com). Contact jay@yourlawlife.com or 919-619-2441 to learn how Jay can help your practice.