Lawyers In Transition Toolkit- Part Six Keeping the Law Practice in the Family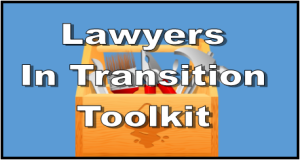 The family law practice – especially one that spans generations – is a wonderful thing.
And increasingly it's becoming rare and endangered.
There are lots of reasons for this: globalization, the decline of the traditional law firm model, the weakening of the nuclear family. And in today's mobile society, young lawyers are no longer tethered to home.
Keeping a family-owned practice going has never been harder.
"In contrast to publicly owned firms, in which the average CEO tenure is six years, many family businesses have the same leaders for 20 or 25 years, and these extended tenures can increase the difficulties of coping with shifts in technology, business models, and consumer behavior," write George Stalk and Henry Foley in the Harvard Business Review Blog.
Studies show that more than 70 percent of family-owned businesses do not survive the transition from founder to second generation.
The best way to avoid this fate is by having a family business succession plan.
Family and Firm Don't Always Mix
Mixing family and business can be a tricky proposition. The heir you have in mind may have no interest in taking over the firm, or they may lack the skills to do so. Conversely, another relative – who might not be your personal preference – could be the perfect candidate.
When planning for succession, it's important not to let loyalty and love cloud your objectivity. Make sure any relatives who join the practice are committed and qualified.
A common trap is making your children feel obligated to join the firm. This can result in managers who don't really want to be there.
"More often, we see parents emphasize that their offspring are free to join the business if they so choose," according to Stalk and Foley. "Generally this situation translates into an unspoken promise that 'there's always a place for you here,' which can lead children to treat the business as a fallback option. Despite their lack of experience, these offspring may ascend to leadership positions because of the family connection, increasing the chances that the business will fail."
One solution is to immerse interested family members in the business at an early age. Give them jobs – but not special privileges. Let them get a feel for what it's like in the office. That way, they can make an informed decision about whether they want to be a part of it.
It might be wise to suggest a child take a job outside the firm before coming inside. This will broaden horizons and open new perspectives.
Law Firms Have Special Considerations
Law practices are not like other businesses. Ethical and fiduciary principles apply. When planning for succession, make sure to follow the Rules of Professional Conduct and ethical best practices. Some points to cover:
How and where client information is stored, including operating bank accounts, trust accounts and other financial aspects.
How current case matters will be dealt with.
How closed files will be stored and disposed of.
Continuation or termination of leases, contract and other obligations.
Responsibility for debts and liabilities.
Data security, including computer access, cloud storage and passwords.
Compensation and benefits.
How to Get Started
The ABA has a wealth of information and resources on succession planning. Here is a good place to start.
Deloitte has a downloadable Succession Business Planning Packet, which you can find here.
Business leadership expert Dan McCarthy offers this succession planning template.
Practice Tips for Keeping the Practice in the Family
Start business succession planning early. Five years out is good. Ten years is better.
Train your successors. Work with them closely for a year or so before handing over the reins.
Involve the family in succession planning discussions. Don't come up with a plan on your own and then spring it on your family without warning.
Keep your practice healthy and growing. You want to have enough business to employ all family members who are interested in joining the firm.
Get outside help. Estate planners, accountants, business consultants and financial advisors can help you create a winning plan.
Missed any of the challenge? Check them out here:
Sources: