Lawyers In Transition Toolkit Part Four- Finding the Right Words to Say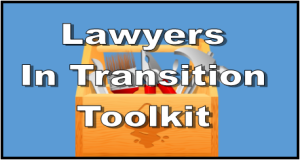 One challenge for lawyers in career transition is explaining to others what you are doing and why.
You might even have trouble explaining it to yourself.
This is true for transitions that are voluntary (retirement, relocation) and involuntary (disability, disbarment). But there are good reasons for having a ready response to the questions: "What's up with you? What are your plans?"
For starters, you have a professional duty of candid communication with your clients, partners and employees. You also owe it to your family and close friends.
Beyond these considerations, your transition will simply go smoother if you come up with the right words for what you are doing.
Communicating with Clients
The Rules of Professional Conduct require communication with your clients about matters relevant to the representation. Obviously, a change in practice status falls into this category.
The rules cover a range of issues that will likely arise in the process of a transition out of practice. How to properly withdraw from representation? What documents and property must be delivered to the client? What happens to the case file?
Here are some pertinent rules:
Preamble 0.1
Rule 1.4 Communication
Rule 1.9 Duties to Former Clients
Rule 1.16 Declining or Terminating Representation
Rule 3.3 Candor Toward the Tribunal
Rule 4.1 Truthfulness in Statements to Others
Rule 7.1 Communications Concerning a Lawyer's Services
A key point: the attorney-client relationship can't simply be snipped like a loose thread. It takes time and planning to end it the right way.
"Upon termination of representation, a lawyer shall take steps to the extent reasonably practicable to protect a client's interests, such as giving reasonable notice to the client, allowing time for employment of other counsel, surrendering papers and property to which the client is entitled and refunding any advance payment of fee or expense that has not been earned or incurred," says Rule 1.16.
Set A Date
It's also important to set a definite date. Leaving the timing of your transition hanging and indefinite will only cause anxiety to yourself and others.
Marking your calendar brings concreteness. Your transition becomes a real thing pegged to a specific time frame. This alone will bolster your confidence.
And don't freak out. Nothing needs to be carved in stone. Your plans can change as circumstances dictate.
Five Practice Tips for Finding the Right Words
Put a name on it. If you're retiring, say you're retiring. If you're moving into a different career, say so. Naming it makes it more real.
Write a script. Seriously. Get an index card and write down exactly how you want to explain your transition to others. Keep it short and simple. No need for excess details. "I'm reducing my caseload and will retire in six months," may do just fine. You might want to create different scripts for different people. What you tell your staff will not be the same as what you tell your clients.
Notify your long-term clients. See Rule 1.3, Comment 4: "If a lawyer has served a client over a substantial period in a variety of matters, the client sometimes may assume that the lawyer will continue to serve on a continuing basis unless the lawyer gives notice of withdrawal. Doubt about whether a client-lawyer relationship still exists should be clarified by the lawyer, preferably in writing, so that the client will not mistakenly suppose the lawyer is looking after the client's affairs when the lawyer has ceased to do so."
Don't start something you can't finish. See Rule 1.16, Comment 1: "A lawyer should not accept representation in a matter unless it can be performed competently, promptly, without improper conflict of interest and to completion." 
Communicate your health and estate plans. Talk to your family and doctor about your end-of-life wishes, advance directives and will/estate planning.
Catch on our "Lawyers In Transition Toolkit series below:
Source: NC State Bar https://www.ncbar.gov/for-lawyers/ethics/