Lawyers In Transition Toolkit - Part Five Don't Call It Retirement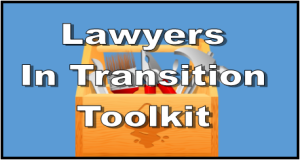 If you're planning to hang it up after a long, productive law career, there's one word to steer clear of.
You can say you're entering a new phase of your life journey. Say you're repurposing, reimagining or rebooting. Say, "Hooray, at last I'm free!"
Just don't call it retirement.
"Maybe we should refer to it instead as the next stage of our lives," says the American Psychological Association. "The stage might include working full-time, or working part-time, or working at something entirely different like a nonprofit organization or a university. Or it might involve not working at all, but instead pursuing avocations. Maybe that's a less frightening way of looking at the future."
Whatever you call this phase of life – un-retirement is as good a word as any – a lot of people are there. And most are continuing to lead active, productive lives.
Thirty-nine percent of Americans over 65 currently working had previously retired from another career, according to this 2017 Rand Corporation study. And a majority of those not presently punching the clock say they'd gladly do so if the right job came along.
"We have a mistaken image of life that you go to school, work for 40 years, then say goodbye to colleagues for the last time and embrace the leisure life," says Chris Farrell, author of Unretirement: How Baby Boomers Are Changing the Way We Think About Work, Community and the Good Life in this USA Today piece. "That's not turning out to be the arc of most people's lives."
Just Look at the Numbers
The proof is in the numbers. The average American's life expectancy is 78 years, according to the most recent data. That's up from 74 years in 1990, 70 years in 1960 and 60 years in 1930.
More people are living longer – and working longer – than ever before.
"Between 1993 and 2009, workforce participation by men ages 62 to 74 grew by 39 percent," says the StarTribune, citing numbers from the Urban Institute. "Participation by women in that age group grew by 60 percent. Ninety percent of workers age 60 to 64 – or 5.4 million men and women – say they enjoy going to work. The share increases to 97 percent of workers 70 and older, or 3 million people."
And nowhere is the unretirement trend more pronounced than in the legal profession – where the physical demands are low and the rewards for experience high.
Five Practice Tips to Prepare for Unretirement
Stay in touch with colleagues. The number one thing retirees say they miss is social interaction with their workmates. That doesn't have to end when you leave the office. Keep channels of communication open. Get together after hours and on weekends. Build new relationships.
Who says 65 is the time to go? More than a third of all workers say they plan to stay on their jobs after age 65, says one study. That's triple the number from 1998. In professions like the law, experience is a huge asset. There is no reason to step aside just because you've reached a certain age.
Look at the research. In 2012, the Employee Benefit Research Institute (EBRI) conducted a Retirement Confidence Study that found soaring numbers of seniors leading enjoyable and productive lives.
Call it the Second Season. That's the term preferred by the ABA.
Make sound decisions. Financial planning today opens doors for tomorrow. Prepare a personal budget. Understand the rules for receiving or postponing Social Security benefits. Know how Medicare and supplemental benefits work. Plan for the distribution of retirement benefits. Make smart choices about investments, financial advisors, living expenses and housing options.
 Did you miss any of our Lawyers in Transition series? Check them out below:
Part One, Part Two, Part Three & Part Four
Sources: