Lawyers In Transition Toolkit Part Eight – Financial Planning Prepare a Financial Plan for your Transition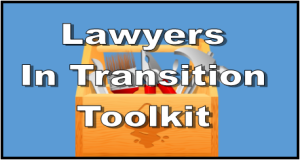 Now that we've agreed on the importance of planning for your professional transition, let's drill a bit deeper into the financial aspects of that plan.
It might surprise you to know that lawyers aren't always great at laying a sound financial foundation for their future. This is so even though they have ably assisted clients in doing so for years. Can you say, "The shoemaker's children go barefoot?"
The good news is that you don't need a background in tax law or estate planning. In fact, the skills you've honed and sharpened over the course of your career will serve you well now.
Communication, for starters. Talk with your spouse and loved ones. Discuss your vision for the future. What sort of lifestyle do you want? Is a geographic move anticipated? What level of income will be needed?
Another key tool is conflict avoidance. How will your departure affect your law partners and business associates? What stress will it put on your family? Spot areas of potential conflict and head off problems before they arise.
The most essential skill is collaboration. Get help from experts. Call on your banker, financial advisor and CPA. Ask them to analyze your current status and suggest strategies for the future. Contact your professional liability carrier. Ask about obtaining tail coverage after you leave practice.
Start Early and Finish Strong
This post won't attempt to tell you how to create your financial plan. That cannot be done in 800 words. Besides, every situation is different and every person's goals are unique.
But there are some planning essentials.
One is to start early. For attorneys, that means the day after you finish law school. Early priorities might include buying a new car, purchasing your first home and paying off your student debt.
But a long-term priority should be to plan for your life after the law.
Another essential is to categorize your assets in different ways according to their purpose. One category is cash or the equivalent. This is money you can get your hands on quickly. Another category might be short- to mid-term investments. These guard against risks but are still easily accessible. A third category would be long-term savings and retirement accounts.
Partner With a Financial Adviser
Choose a financial adviser with experience and a solid track record. Pick one you like and trust and who treats you as a valued partner.
"Find a financial adviser who specializes in advance planning — not just investment planning, but also income planning (making sure you're paying yourself the right way in retirement), tax planning strategies (minimizing your exposure so you're not paying more than you have to), health care planning (finding the right Medicare plan for you and considering your long-term care needs) and legacy planning strategies (assuring your assets will pass efficiently to the people and/or charities of your choice)," according to this Kiplinger article. "Then gather up your paperwork and get ready to get comprehensive."
Five Practice Tips for a Financial Plan for your Transition
Have an actual plan. An idea is not a plan. Neither is the intention to prepare one someday. Have a written document to guide your financial future. Revisit it periodically. Make changes to preserve your money as years pass and life happens.
Consult a financial expert. Consult a financial expert, consult a financial expert. Got it? Read this article from Forbes. And this one from AARP.
Contact your malpractice carrier. Ask about adding an Extended Reporting Endorsement (tail coverage) to your policy.
Get legal advice as needed. Even though you may have a working knowledge of pensions, annuities, retirement accounts and Medicare, there's no harm in bringing in a fresh pair of legal eyes. Chances are a colleague down the hall would be happy to help. They'll be able to offer detached, objective counsel.
Don't forget to enjoy life. You can become so wrapped up in wealth preservation that you overlook the dazzling sunrise and glorious tulips just outside your window.
Check out more of the Lawyers in Transition blog series here:
Sources:
Jay Reeves practiced law in North Carolina and South Carolina. During the course of his 35- year career, he has been a solo practitioner, corporate lawyer, legal editor, Legal Aid staff attorney and insurance risk manager. Today he helps lawyers and firms succeed through marketing, work-life balance and reclaiming passion for what they do. He is available for consultations, retreats and presentations (www.yourlawlife.com). Contact jay@yourlawlife.com or 919-619-2441 to learn how Jay can help your practice.