Lawyers in Transition Part 12- Build Deep Bench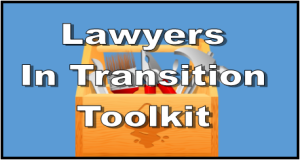 A key to succession planning for your law practice is to develop a deep bench of in-house talent.
That way, when a major player departs, there will be a strong supporting cast to continue the firm's legacy – and perhaps even expand it into exciting new realms.
"To keep your firm healthy and lasting, you have to emphasize leadership development and relationship building in your in-house professional development programs," says practice strategist Jordan Furlong, author of "The Law Is a Buyer's Market."
Future success requires a strong, capable bench. This includes not just lawyers, but everyone involved in the delivery of legal services, from receptionist to paralegals to IT staff.
In fact, Furlong distinguishes between lawyer work (which only a lawyer can do) and legal work (which doesn't necessarily require a lawyer at all stages of the process). Much of the daily business of a law practice falls into the latter category, he suggests. This means it is important to provide succession training for all members of the law team, not just the JDs.
Assembling a Winning Team
A deep bench is created by recruiting top talent.
"People innovate, law firms don't," writes talent manager Terri Mottershead in Law Practice Today. "Talent management for 21st century law firms is not a luxury, it's a necessity. Managing talent well has always been the key to success."
Once good people have been brought onboard, they need to be trained on the firm's policies, procedure and culture. Here are some tips for doing that:
Conduct an analysis of internal human capital, including job roles, locations and expected turnover and vacancies.
Have an answer to the question: "Why should I work here?"
Develop a formal, objective interview process that aligns with the firm's strategic goals.
Use metrics to track the performance of new hires.
Continuously seek to understand what employees want in terms of money, training, status and quality of life.
Provide coaching and mentoring.
Train all new lawyers on business development, practice management and the business of law.
Have a clear succession plan in place.
"Decide what your succession plan is, talk about it and write it down," says Julie Beavers, chair of the NCBA Transitioning Lawyers Commission. "Share it with all members of the team. They're thinking about it, whether they say so or not."
5 Practice Tips for Developing a Deep Bench
Look for employees who can carry the firm's legacy forward. They will be creative and committed, and they will fully buy in to the firm's vision.
Look also for lawyers who display resilience, optimism and entrepreneurialism. They will be able to adapt to change and overcome hurdles.
Make professional development a top priority. Give new hires a financial incentive to embrace the process. Consider bringing in outside specialists to conduct orientation and training sessions.
Evaluate your professional development efforts. Which programs work, and which ones are a waste of time? Talk to lawyers who have gone through your training. Ask about their experience. Use this data to improve your program.
Adopt a multi-generational approach. Avoid vertical decision-making in favor of a more democratic, horizontal approach. Your future, after all, is in the hands of your junior members. Make them a part of today's planning.
For more of our Lawyers in Transition blog series, check out the links below:
Sources: