Lawyers In Transition Part 11- Time to Quit, But Don't Want To?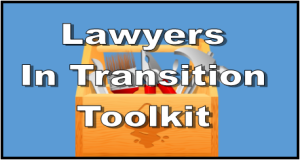 You know it's time to step away from full-time practice, but you're having trouble doing it.
And the longer you've practiced, the harder it is.
It might help to change your perspective. First, cut yourself some slack. Stepping away from something that's been a major part of your life is no easy thing.
Second, think of your departure from daily practice not as an end to your professional life, but a chance to reset or reinvent it.
Consider a "soft retirement" where you shift into another area of activity, perhaps one that was previously a hobby or sideline, suggests Mark Scruggs, former co-chair of the NCBA Transitioning Lawyers Commission.
"In a Merrill Lynch retirement study of those 45 years of age or older, seven out of 10 respondents would include some work in their retirement," writes Scruggs. "Fifty-one percent of those respondents saw retirement as career reinvention."
6 Suggestions for Reinvention
How to prepare yourself for your next season of life? What steps can you take for a successful reinvention?
Here are six suggestions from Scruggs:
 Reset your priorities. "What are you passionate about? What is your avocation? School yourself on the business aspects of your passion or avocation. You may be able to turn your hobby or your passion into for-pay employment."
Play to your strengths. Unsure what your strengths are at this stage in your life? Take a personality or aptitude test like Myers-Briggs Type Indicator, Strengthsfinder 2.0, Highlands Ability Battery or the MAPP Career Assessment Test. Even if you've taken one of these before, it will be instructive to see how you've changed over the years.
Attend a retirement workshop. "Gain valuable information and create a sense of optimism and adventure about the next phase of your life. The Osher Lifelong Learning Institute at the University of North Carolina Asheville conducts retirement workshops that might be of interest to you."
Have a destination in sight. "It is so important to transition TO something rather than just FROM something. If one simply locks the office door and goes home with plans of reading more and traveling more, odds are retirement is not going to be a pleasurable experience. Pro bono work, a new career, a long-denied hobby, whatever."
Give back to your profession. Options include mentoring a law student, coaching a mock trial team, teaching a CLE course, writing law articles or volunteering as a child advocate.
Give back to your community. The possibilities are limited only by your imagination.
5 Practice Tips for Overcoming Mental Blocks to Transition
Make new friends and stay connected to old ones. Numerous studies show that friendship – even if it's just a single friend – reduces stress.
Develop fresh routines. "We get used to going to work and seeing people who are part of that world, even the annoying colleague," says this expert. "Not having a place to go or a workplace to check in with can lead to a sense of loss of both a social network and of organization, and can leave one feeling somewhat lost at sea."
Think positively. Retirement can represent something gained (more time to pursue a long-time dream, more time to travel, more options in life), not something lost.
Stay close to the law. You don't have to kick your law life to the curb. Stay involved through pro bono work, teaching or volunteerism. Attend local bar functions. Join a planning committee.
Give yourself a long off-ramp. Several years of careful planning will help get you mentally and emotionally prepared when the time for transition arrives.
Get all caught up on the Lawyers in Transition blog series here:
Sources:
"Retire, Reset or Reinvent," by Mark Scruggs http://www.lawyersmutualnc.com/risk-management-resources/articles/retire-reset-or-reinvent
NCBA Transitioning Lawyers Commission https://www.ncbar.org/members/committees/transitioning-lawyers-commission/