Lawyers Honored For Going Above and Beyond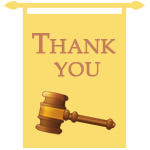 Three lawyers were honored with 2015 Pro Bono Awards at the NCBA Annual Meeting in Asheville.
The winners were Bryant Webster of Black Mountain, Richard Klein of Wilmington, and Ericca Starling of Wilson.
In addition, the Campbell Law School Reentry Project was cited for outstanding Law Student Group Pro Bono Service, and the NCBA Estate Planning & Fiduciary Law Section won the Chief Justice Award.
Bryant Webster – William Thorp Pro Bono Service Award
Webster began volunteering with Pisgah Legal Services' Mountain Area Volunteer Lawyer Program in 1997. Over the past 17 years, he has given more than 1,300 hours of pro bono service in 605 cases. In 2014 alone, he provided more than 228 hours.
His main area of focus is resolution of real estate property title disputes. He also helps out on the Attorney Hotline. "[Bryant] sees the importance of timely legal advice to people in need and is a strong advocate," said Jim Barrett, executive director of Pisgah Legal Services.
Richard Klein – Deborah Greenblatt Outstanding Legal Services Attorney Award
Klein has "spent every day of his 45-year career fighting for the rights of the poor as a civil legal aid lawyer," says George Hausen, executive director of Legal Aid of North Carolina.
A New York City native, Klein has served the needy in North Carolina for the last 36 years. He has also mentored numerous public service colleagues.
Ericca Starling – Younger Lawyer Pro Bono Service Award 
Starling has been a key part of "Serving Those Who Served," the NCBA Family Law Section's signature pro bono project that helps low-income veterans access legal assistance with family law issues.
Services includes free legal assistance with custody, child support, divorce and other family law-related issues. Starling has earned a reputation for taking on any type of case, especially the stickiest ones.
NCBA Estate Planning & Fiduciary Law Section – The Chief Justice Award
This award recognizes a local, district or statewide bar organization whose members do outstanding work for low income people. The Estate Planning & Fiduciary Law Section has been doing that for more than 16 years.
Three projects are illustrative:
Hospice pro bono project. This effort serves 72 hospice units across the state. It pairs 138 volunteer attorneys with hospice patients in need of simple estate planning documents. The volunteers help bring a measure of grace and dignity to the last days of patients' lives.
Eugenics victim relief. Fifty volunteers (including members of the Elder Law Section) assisted people who were in line to receive eugenics settlement monies from the state.
Pro bono toolbox. Members of the Estate Planning section created a kit to help groups plan and present estate planning pro bono clinics. The toolbox walks program organizers through all of the details necessary for such an event.
The Campbell Law School Reentry Project – Law Student Group Pro Bono Award
The Reentry Project assists citizens who need relief from the collateral consequences stemming from a criminal record. These often include barriers to employment opportunities and affordable housing.
Students are trained by the N.C. Justice Center and Legal Aid of North Carolina. They learn about the ramifications of having a criminal record and the criteria for expunctions and certificates of relief under North Carolina law.
They are also taught to review criminal records, and they participate in practice exercises in applying the law and determining eligibility for relief. The students work under the supervision of Legal Aid staff attorneys and volunteer attorneys in mobile clinics across the state.
"The project has a tremendous impact on people in the community who are suffering from the consequences of a criminal record," says Beth Froehling, director of Student Life & Pro Bono at Campbell Law School. "The project also has a positive impact on the students who participate, and supports Campbell's mission of giving back to the community."
Source: NC Bar Association http://www.ncbar.org/news/ncba-presents-2015-pro-bono-awards/
Jay Reeves a/k/a The Risk Man is an attorney who has practiced North Carolina and South Carolina. Formerly he was Legal Editor at Lawyers Weekly and Risk Manager at Lawyers Mutual. Contact him at jay.reeves@ymail.com.