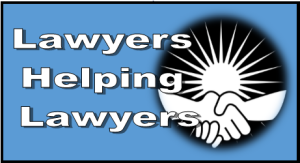 When you think about the community of North Carolina lawyers, three words should come to mind, "Lawyers Helping Lawyers." The community of NC lawyers goes above and beyond to ensure that attorneys succeed both inside and outside the courtroom. From the NC Lawyers Assistance Program to the Transitioning Lawyers Commission, there are programs in place to help attorneys through all aspects of their professional and personal lives.
The Jane B. Weathers Lawyers Helping Lawyers (LHL) Fund is another way NC Lawyers are lending a helping hand to colleagues in need.  The LHL Fund assists North Carolina lawyers in financial need due to difficult circumstances. Modest individual grants, from a fund managed by the N.C. Bar Foundation Endowment are awarded as necessary for this purpose.  The fund was established with gifts made in honor of long-time NCBA staff member Jane Weathers upon her retirement. The fund was activated in 2016 with the first grants made in the second half of the calendar year.
 It's only fitting that we learned more about the fund from Jane Weathers herself.
LM: What led to the establishment of the LHL Fund? Were there any trends or recurring issues that motivated the NCBA to take action?
After years and years of providing a long list of public services, the NCBA asked itself have we missed anything? It quickly became clear to me that we had not addressed helping those among our own who might need assistance. My interactions and daily service to many members gave me the opportunity to learn about their concerns and led me to the idea of giving back to lawyers to meet their personal needs. There were model programs that we "copied" in two other states which provided financial aid to lawyers.
LM: Can you explain what type of help the fund will provide for NC attorneys?
The fund was established to help with various difficult circumstances, which includes medical, personal or professional challenges that NC lawyers are facing at critical junctures in their lives. These grants also might provide short term disability assistance, workplace modification assistance or other short term emergency needs.
LM: Who decides how funds are allocated?
The LHL Committee, composed of volunteer lawyers from across the state, confidentially reviews the requests for financial assistance and administers the program. Priorities are established by the LHL Committee as we attempt to do the most good for the most people.
LM: How can lawyers who are in need go about seeking assistance?
The fund accepts referrals from local bar associations and other bar groups who are aware of lawyers in need. Similar programs already exist in Illinois and Ohio and we are learning from their experience in how to structure our efforts.
LM: What other ways can attorneys get involved in helping out?
Please spread the word that the LHL program exists and encourage a colleague who has a financial challenge to apply for a small grant. Becoming involved with the selection committee or giving a monetary gift to help others is appreciated too.
LM: Jane, I know you are enjoying your retirement, but can you tell us a little about your years spent with the NCBA?
I have been richly blessed working with wonderful volunteers who have become friends for life. I treasure all they taught me and the opportunities they afforded me to serve them.
LM: What are some of your favorite NCBA memories?
My happiest memories were being with groups of lawyers in business and social meetings. This would include the Board of Governors' meetings, numerous Sections Council meetings and SLD meetings in and out of state. There are many memories I cherish but too many to list here!
LM: Why was it important for you to be involved in the LHL Fund?
It was important for me to be involved because all my life I have been around lawyers who were helping others: law students and lawyers. Most important to me was the example my father, Carroll Weathers, set as the longtime Dean of the Wake Forest University School of Law. He referred to the students as if they were his family, doing all he could to help them while they were students and after they left law school and became practicing attorneys.
It seemed only natural for me to follow daddy's example, wanting to do all I could to help lawyers and what better program than Lawyers Helping Lawyers. Helping others has always been a part of my life and my family's life. That's why working for the NCBA was important to me. In my 28 years of service I cultivated many good friends and occasionally learned of a need that LHL could address. I welcome this unique opportunity to repay the Bar Association which blessed me through my staff position.
There will always be those lawyers among us who face on unexpected challenge: medical, family or personal; and what a great way to put Christian principles into practice (a concept important to me) than through LHL. I wanted a way to give back to the legal profession through the NCBA which has been a large part of my life.
LM: Is there anything I haven't asked that you would like to add?
Thank you for the opportunity to speak with you and for Lawyers Mutual helping to spread the word about this worthwhile project to which I am very committed.
 In closing I want to express my sincere gratitude to my Bar friends, family and personal friends whose generous contributions made my dream of helping others a reality. Thank you from the bottom of my heart. 
We are thankful for Jane's generosity and continued dedication to supporting the profession through the LHL Fund.
To seek a grant application:
For more details about the fund: Go to https://ncbar.org/members/lawyers-helping-lawyers-fund/
To seek a grant application: Send an email with the subject line: "Jane B. Weathers Lawyers Helping Lawyers Fund" to staff liaison Amber Nimocks at animocks@ncbar.org or call Amber at 919.657.1557