Lawyer Rates Top $1,000 Per Hour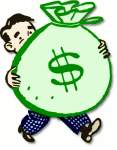 At this very moment, somewhere in our great land, a lawyer is billing a client $1,000 or more per hour.
And the number who are doing so is growing, according to this report.
Topping the list of the country's most expensive lawyers is Kirkland & Ellis partner Kirk Radke. The private equity and corporate counsel bills $1,250 per hour.
Rounding out the top five are:
· Ian Taplin of Kirkland & Ellis (tax practice – $1,220 an hour)
· Gerhard Schmidt of Weil Gotshal & Manges (finance, corporate, mergers and acquisitions – $1,165 an hour)
· Michelle Y.L. Gon of Baker McKenzie (real estate, mergers and acquisitions, intellectual property – $1,163 an hour)
· Andrew Shutter of Cleary Gottlieb (bankruptcy – $1,160 an hour) and Michael McDonald of Cleary Gottlieb (corporate, mergers and acquisitions – $1,160 an hour)
The big billers tend to cluster in finance-related practices. A sort-of exception is Dirk Vandermeersch of Cleary Gottlieb, who charges $1,230 an hour for environmental litigation. Lee Coffey of Jones Day bills $1,075 per hour for environmental and energy work.
But the common thread is money – and clients with extraordinarily deep pockets.
"The underlying principle," said one of the chart-makers to the Wall Street Journal, "is if you can get it, get it."
Here is a chart of the $1,000 billing club, courtesy of the Wall Street Journal.
Profile of a $1,000 Biller The ABA Journal did a fascinating profile of Houston attorney Stephen Susman, described as an example of the new breed of $1,000 hourly lawyers.
Susman is not actually a billing lawyer, he's a litigator. Billables account for less than 20 percent of his work. When he does bill, it is at the rate of $1,100 per hour.
He is the attorney other firms call when they have a huge case but can't handle it because of a conflict of interest or otherwise. His firm (Susman Godfrey) opened a New York office to woo such business.
"I'm hustling New York City's big firms," he told the ABA Journal. "And they're listening. I tell them we only do litigation for their clients as one-night stands, or like a heart surgeon. We're not needed again."
Here are some other excerpts from the piece:
· "Since planting the Susman Godfrey flag in NYC a year earlier, Susman has been power-breakfasting, power-lunching and powering whatever else to get work from big New York law firms. He tells them he's not out to steal clients. His firm has some specialties and some special ways of billing for them, and he pushes single-case litigations referred when firms are conflicted and such."
· His offices "are nicely done, though without the effort some firms go to for an exalted aura of greatness. These folks are all about trying high-stakes commercial lawsuits."
· "He is like a voracious animal, and that is the feeling you get in his presence. He scares people on his own side. The opposition is often terrified."
· "His now-90-lawyer firm is a litigation assault weapon, having made much of its reputation in antitrust and, more recently, thanks to the Eastern District of Texas becoming the plaintiffs patent-bar venue of choice, is big into IP litigation."
· "The business model probably is not replicable. They started in Houston in 1980 with an unheard-of plan: Do commercial litigation but make the money plaintiffs lawyers do in toxic torts, personal injury and medical malpractice. That meant alternative fee arrangements, especially contingency fees."
· "He left Houston for college at Yale in the early 1960s, then returned to the Lone Star State for law school at the University of Texas, where he is said to have had the highest GPA ever. Legend also holds him as the first clerk that Justice Hugo Black allowed to draft his opinions."
· "The firm hires almost exclusively former federal court clerks."
· "The Houston firm has branched out over the years: Dallas, Los Angeles, Seattle and now New York. In each instance it has done so for what others would consider the wrong reason. Law firms typically open new offices to follow clients or chase business. 'We've done it when we've either wanted to get or keep a good lawyer,' says Susman."
· "The formal partnership track is four years, but no one stays that long without making partner."
· "Each Wednesday all the firm's lawyers, even if on the road, meet via conference call to consider three or four pitches to take on work. On Mondays, memos of 10 pages or fewer are circulated for each. About 20 percent are shot down. One that lost out this week was great on the law, precedent and other necessaries except for one thing: unclear on the money."
Sources:
· ABA Journal http://www.abajournal.com/news/article/more_top_lawyers_break_through_1000_hourly_billing_barrier/?utm_source=internal&utm_medium=navigation&utm_campaign=most_read
· The Wall Street Journal https://www.wsj.com/articles/SB10001424052748704071304576160362028728234
· Wall Street Journal - $1,000 billing chart http://online.wsj.com/public/resources/documents/st_TOPRATE0222_20110223.html · ABA Journal - Magazine http://www.abajournal.com/magazine/article/the_g_man/