Law Firms Looking For CQ in New Hires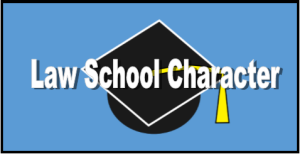 If you want to hit a home run at your next job interview, show off your character instead of your legal smarts.
Prospective employers are more impressed with candor, common sense and creativity than class rank.
That's the conclusion of a new study – "Foundations of Practice: The Whole Lawyer and the Character Quotient" – from the Educating Tomorrow's Lawyers Initiative (ETLI) at the University of Denver's Institute for Advancement of the American Legal System.
"[N]ew lawyers need character," says ETLI director Alli Gerkman, who co-authored the study. "In fact, 76 percent of characteristics like integrity, work ethic, common sense, and resilience were identified by a majority of respondents as necessary right out of law school."
The study surveyed more than 24,000 lawyers in all 50 states on hiring criteria.
"Just as the medical profession realized that 'bedside manner' matters in a doctor, IAALS' research reveals that being a 'whole lawyer' means possessing a high character quotient in addition to having skills and intellect," writes Gerkman. "Our findings in this study have the power to radically shift the discussion about what law schools teach and how employers hire and motivate a different approach to educating, training, and employing America's next generation of lawyers."
Read the full report here.
Adding a Third "Q"
When evaluating potential hires, employers have long relied on IQ, as measured by GPA, class rank and the like. More recently, characteristics of EQ (emotional intelligence) have gained ground.
Gerkman says a third category – CQ (character quotient) – is just as important.
"Successful entry-level lawyers are not merely legal technicians, nor are they merely cognitive powerhouses," she writes. "New lawyers are successful when they come to the job with a much broader blend of legal skills, professional competencies and characteristics that comprise the whole lawyer."
The chief legal officer for Avvo is on board with these findings.
"Legal knowledge is like table stakes," says Josh King. "Every candidate has that, so it's much more important a candidate has integrity, the right attitude and character. People with those attitudes succeed across the board, not just in law."
Chere Estrin, President of the Organization of Legal Professionals, takes a more pragmatic view. She says no firm wants a new associate with poor character. But she says traditional criteria like law review and GPA will continue to drive the hiring process:
"No major law firm will take someone from a second or third-tier law school over a first-tier, even if the lower tier candidate has better character. What's going to happen is personality, as opposed to character, will be increasingly valued."
Gerkman says the report has implications for law schools, which she says do a fine job teaching students how to think like a lawyer. But when it comes to teaching character, not so much.
"Law schools should adapt to what legal employers say they need and want in new hires," she says. "Maybe they need to use broader characteristics, more than GPA and LSAT scores, when selecting students."
What do you think? Should law schools be in the business of teaching character? How much weight should employers give character in relation to experience and educational achievement?
Sources: