Law Firm Buying & Selling 2022 Trends Report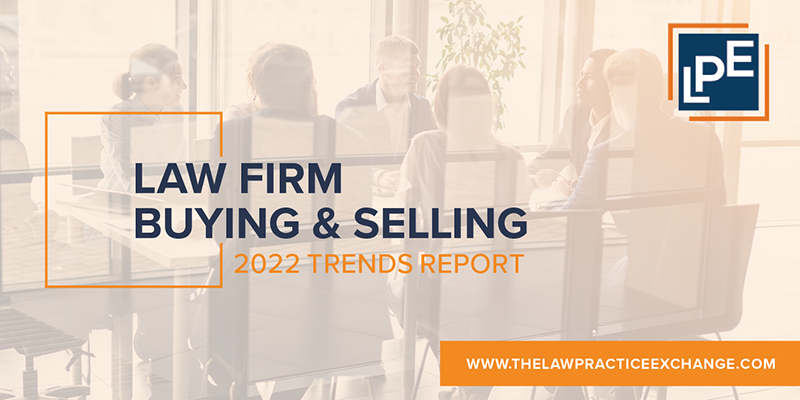 Want an insider's look at what's happening in the marketplace for buying and selling law firms?
The first-of-its-kind Law Firm Buying & Selling 2022 Trends Report gives you the top trends to keep an eye on.
"In recent years, we've seen tremendous growth in the numbers of buyers and sellers of law firms," says Tom Lenfestey of The Law Practice Exchange, which created the report. "Established firms and attorneys are looking for succession or sale due to attorney retirement, labor needs, and the changing marketplace. Next generation law firms are seeking growth through acquisition. The time seemed right to compile the data we've been collecting and share it with potential buyers and sellers."
Download your free copy of the Law Firm Buying & Selling 2022 Trends Report.
Why choose Lawyers Mutual for your financial protection? One reason is experience. Lawyers Mutual has been in business since 1977 and insures more than 8000 lawyers in North Carolina. We've been providing continuous protection from professional liability to NC lawyers longer than any other insurance company. Another reason is stability. The company's financial strength is absolute. Since 1999, Lawyers Mutual has paid dividends fourteen times, with more than $8 million dollars returned to policyholders since 2011. Want even more reasons? Visit our website, give us a call, or ask a colleague why Lawyers Mutual is the smart choice for liability coverage.
Law Firm Buying & Selling 2022 Trends Report
Below is a conversation between Lawyers Mutual Consulting & Services and Tom Lenfestey.
LMCS: You outlined 12 top trends to watch in 2022. Why don't you share a few with us?
TL: Relocation is a top trend. Lawyers, like so many other workers, have relocated in the past 24 months or have plans to do so. This opens more opportunities on both the selling and buying sides for law firm deals. Another trend is more available funding for law firm deals. Banks, private lenders, and others are becoming even more active and focused on providing funding for law firm buy-ins or acquisitions and are working to craft better and more competitive lending platforms to do so.
LMCS: An important component of the Trends Report in my estimation is the snapshot of the typical seller and buyer.
TL: Yes, I think it's no surprise that our typical seller is male, over age 65, and is approaching 40+ years of practice. Female sellers are retiring younger, so they are typically over the age of 55 and approaching 30+ years of practice. Sellers indicate their top reasons for selling their law firm include wanting to spend more time with family, a desire to create a continuation plan for the firm, its clients, and the employees, along with a goal of monetizing the value of the firm through sale or exit. Our average firm buyers are males and females between the ages of 30-40 who have been practicing 10+ years. The most common reasons for buying a firm include revenue growth, ownership opportunities, and geographic expansion.
LMCS: The Trends Report covers other information such as top practice areas sought by buyers, typical financials of selling firms, and lessons learned from successful transactions. Tom, is there anything else you want to share with our audience?
TL: We have two pieces of news. This summer, we plan to release our second book, "A Guide to Buying to a Law Firm". The book will include case studies, scripts, and checklists to prepare buyers who are looking to make an investment in their law firm through purchase of a practice. The book will be available on Amazon.
TL: In October, we will be co-hosting a Buying & Selling Academy in Wilmington, North Carolina. Prospective sellers and buyers will be encouraged to attend to learn more about the process as well as meet prospective buyers and sellers of solo, small and mid-size law firms. We will have guest speakers, workshops, and networking opportunities. Wilmington in the fall is great, I hope you'll join us!
Source: Law Firm Buying & Selling 2022 Trends Report - Lawyers Mutual Consulting
Lawyers Mutual is here for you at every stage of your law career: from your first day on the job to your last day before retirement. Our Byte of Prevention blog features industry news, tips and valuable links on everything from work-life balance to winding down your practice. Our email newsletter "Practice Reimagined" brings cutting-edge insights straight to your in-box. And our skilled team of underwriters, claims counsel and risk management professionals are by your side when you need us most. Lawyers helping lawyers. It's who we are, and it's what we've been doing since 1977.