Law Career Fitness Challenge #2- Accept the Reality of the Marketplace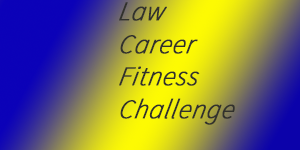 Okay, let's just come right out and say it: now is not the best time in history to be looking for a law job.
Globalizaton, technology and the Internet have permanently disrupted the status quo. Living, breathing lawyers are competing for business with self-help sites and do-it-yourself kits. The traditional law firm model – the foundation of the profession since, well, forever – is dead.
Students are graduating from law school with massive debt and bleak prospects. Fewer than half of all 2011 law graduates have found jobs at firms, according to the National Association of Law Placement. And there is little relief in sight.
It's enough to make a new lawyer consider switching to a more promising line of work, like pizza delivery.
But don't worry. There is an alternative to misery and depression, and that is to get in touch with reality. After all, it is wise to study the terrain before heading off on a journey.
Law Career Challenge Number 2: Accept Reality
In the late '70s, Chief Justice Warren Burger worried that America was turning into "a society overrun by hordes of lawyers, hungry as locusts."
At the time, there were around 450,000 attorneys in the country, and law schools were cranking out 34,000 new ones every year.
Thirty-five years later, the national attorney count had reached 1.22 million – or nearly triple the number that had caused Chief Justice Burger such consternation. In 2010, the number of 1L students reached an all-time high of more than 52,000, and a year later the law school output hit 44,000. These numbers far outpaced the rate of population growth.
But recently, things have been changing. The flood of students entering law school began receding. In the fall of 2013, the number was down to 39,675, a low-water mark not seen since the 1970s.
Some welcome this trend. They say the country is still over-lawyered and that our culture is being corroded by "creeping legalism."
Another key stat: North Carolina ranks 45th among all states in lawyers per capita, with 23 attorneys for every 10,000 residents. The national average is 39 lawyers for every 10,000 people. That doesn't necessarily mean there are more job opportunities in North Carolina and other low-ranking states. It's also a function of the state's population distribution and rural nature.
Five Training Tips
Practice acceptance. Accepting that the lawyer bubble has burst doesn't mean you have to be happy about it. It simply means you choose to deal with circumstances as they are, rather than as you wish them to be.
Stay informed. Keep abreast of legal employment and hiring trends. The more you know, the better off you'll be.
Read this ABA summary of employment and placement data for all U.S. law schools.
Turn change to your advantage. The same forces that are transforming the legal world – most particularly technology and the web – are also creating exciting new practice possibilities. Virtual law offices are becoming commonplace. New niches – in such disparate areas as cybersecurity and video gaming law – are opening up.
Visit the ABA for Law Students website. There you'll find study aids, job postings, interviewing tips and other resources. And it's all free.
Acceptance is a powerful tool. It aligns your inner self with the outer world. Best of all, it puts you on a solid footing to sculpt a career that's buff, toned and built for the long haul. In case you missed last week's challenge, you can find it here.
Sources: