Latest Legal Swing by Pete Rose is Another Whiff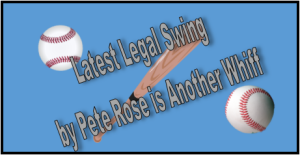 It appears time is running out for Charlie Hustle to make it into Major League Baseball's Hall of Fame.
Peter Edward Rose – the man with more base hits than anyone else to ever play the game – has had yet another appeal of his lifetime ban from the Hall denied.
Almost 30 years ago, Rose – who at the time was managing the Cincinnati Reds, with whom he had played in his glory years – signed an Agreement and Resolution with MLB commissioner Bart Giamatti that declared him permanently ineligible for election to the Hall.
Since then, MLB authorities have consistently refused to even consider his induction. This was most recently done at the December meeting of the Hall's board of directors. Ironically, the news of the board's latest action came as a statute honoring Rose was being unveiled in Cincinnati.
Rose was banned from baseball after an investigation by MLB special counsel John Dowd found he had bet on games. Rose is now 76 years old.
9 Facts about MLB vs. Peter Edward Rose
Here are 9 nuggets from the disciplinary case of MLB v. Rose
1. The investigation and disciplinary action by MLB was not unlike a State Bar action against a lawyer.
2. But it happened much quicker. The disciplinary action was exhaustively investigated, negotiated and settled five months after it started.
3. The Dowd Investigation Report was 225 pages long.
4. The final agreement was signed August 23, 1989.
5. The agreement makes no specific factual findings.
6. Paragraph 4 says: "Peter Edward Rose acknowledges that the Commissioner has a factual basis to impose the penalty provided herein, and hereby accepts the penalty imposed on him by the Commissioner and agrees not to challenge the penalty in court or otherwise. He also agrees he will not institute any legal proceedings of any nature against the Commissioner or any of his representatives, either Major League Baseball or any Major League Club."
7. "Nothing in this agreement shall be deemed either and admission or a denial by Peter Edward Rose of the allegation that he bet on any Major League Baseball game."
8. "Peter Edward Rose is hereby declared permanently ineligible in accordance with Major League Rule 21, and placed on the ineligible list."
9. Rose's lifetime ban was deemed to be "in the best interests" of the game.
Source: ESPN http://www.espn.com/mlb/story/_/id/19642901/national-baseball-hall-fame-upholds-rule-banning-pete-rose-consideration-election