Iowa Lawyer Suspended In Nigerian Scam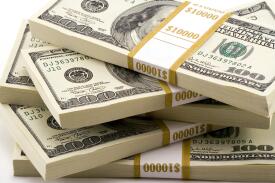 The infamous online scammer from Nigeria has claimed another victim – and this time a lawyer who got swept up in the scheme has been suspended from practice for a year.
It happened in Iowa, where a lawyer landed in hot water for helping a client he believed was in line to inherit $19 million from a long-lost Nigerian cousin.
The conned counselor got his license yanked for numerous ethical violations – most notably a lack of competence.
It all started when the attorney – who had a general practice that included criminal defense, family law and personal injury – was approached with a get-rich scheme by a client he had formerly represented in a criminal matter.
And therein lies cautionary lesson number one: beware of clients bearing gifts. Especially criminal clients. And especially when the gift they are bearing seems way too good to be true.
Suitcases Full Of Money in Madrid
The client had documents that indicated he was entitled to almost $19 million in inheritance funds from a relative in Nigeria. The bounty was sitting right there, ready to be claimed. The money was practically already in his pocket. All he needed was a mere $177,000 – to pay inheritance taxes and to purchase a so-called anti-terrorism certificate.
What happened next is the stuff of a John Grisham novel – or perhaps one by Stephen King.
The attorney agreed to assist in collecting the money in exchange for a 10 percent contingency fee (or $1.9 million). He opened a file and went to work. He negotiated with people purported to be high-level international bankers and lawyers. He talked with someone who claimed to be the president of Nigeria.
He also began hitting up present and former clients for funds to finance the scheme.
All told, he solicited more than $200,000 in loans, promising the clients that they would quadruple their investments once the inheritance money was banked. One client forked over $7,000. Three others paid between $20,000 and $25,000. A fifth client was hit up for $160,000, although it is unclear exactly how much of that was actually paid.
The "loan proceeds" were turned over to the scammers, reports Mike Frisch on Legal Profession Blog. Needless to say, no inheritance money ever arrived.
Cursory Internet Search
In its disciplinary order, the Iowa Supreme Court said a "cursory Internet search" would have revealed the scam.
The court also found:
The attorney failed to verify the identity of the people he spoke to.
He failed to authenticate the alleged will and death certificate.
His interest in obtaining the contingency was adverse to the interests of the clients who made the loans.
He "appears to have honestly believed—and continues to believe—that one day a trunk full of ... one hundred dollar bills is going to appear upon his office doorstep," according to the decision.
The court noted that this was not the first lawyer in Iowa to become snared in a Nigerian scam.
And in the lone positive note in this whole sad affair, the court cited the attorney's long history of pro bono as a mitigating factor. Three cheers for volunteerism!
Jay Reeves a/k/a The Risk Man is an attorney licensed in North Carolina and South Carolina. Formerly he was Legal Editor at Lawyers Weekly and Risk Manager at Lawyers Mutual. Contact jay@lawyersmutualnc.com, phone 919-619-2441.
Sources: