In the Lending Library: Internet Branding for Lawyers: Building the Client-Centered Website by Jeff Lantz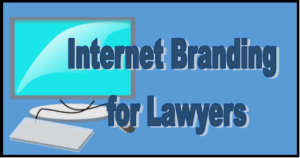 According to author Jeff Lantz, "An effective law firm brand and a compelling website are two of the most critical aspects of law firm marketing; as they can have a tremendous impact on new client development and revenue."
It's unlikely that potential clients are thumbing through the yellow pages looking for your firm. Clients' initial interactions with your firm will likely be through your website. Have you taken a look at your website lately?
Internet Branding for Lawyers takes an in depth look at the dos and don'ts of law firm websites. Many times law firms miss the mark because they focus on what they think works best for their website instead of focusing on what clients want.
In this book, Jeff Lantz helps firms develop a strategic plan through diagrams and checklists that guide you through developing a client-centered strategy. One of the great things about this book is its focus on branding and diving into what it means to fully develop your firm's brand.
According to the book many attorneys at a firm believe:
Prospective clients already know their firm is better than other firms.
Anyone looking on Google for its services will easily find their website then call.
Google will rank their website first because they are considered by the legal community to be the best in certain practice areas.
Whenever a prospective client is given a referral to them by someone else, the prospective client will always call them without considering anyone else.
All of those beliefs are wrong. Many firms overlook the importance of branding.  The "If you build it, they will come," mentality won't get you far in your law practice and certainly not when it comes to your website. Author Jeff Lantz, focuses heavily on the important role strategy plays in developing your brand and messaging for your website. Once your firm has a strong sense of your brand, your efforts to reach clients will be more focused and warrant more success.
I highly recommend this book. Whether you have a well-established firm or just starting out, this book will equip you with powerful tools that will help your law firm thrive. This book is available in our lending library.
The Lawyers Mutual Lending Library is a free service for policyholders, offering books on subjects such as law practice management, technology in the law office, rainmaking, and client relations. Check out this and many other titles at http://www.lawyersmutualnc.com/risk-management-resources/book-lending-library.