In the Lending Library: 101 Ways to Promote Yourself by Raleigh Pinskey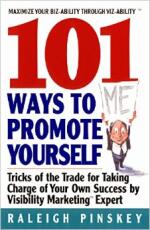 The greatest gift you can give this holiday season (and all year long) is yourself! You are the gift that keeps on giving. You possess a set of unique skills, talents and values that no one else can offer. You're a self-starter, organized and innovative thinker. You have so many wonderful ideas that can greatly improve processes and client relations at your firm. There's just one problem—nobody knows.
In the book, "101 Ways to Promote Yourself" by Raleigh Pinskey you'll learn how to get the attention you need. This book teaches you how to:
Develop hot new leads
Project a positive image
Promote instant name recognition
Hold on to valued customers
Position yourself for greater visibility in your market
And much more!
The Lawyers Mutual Lending Library is a free service for policyholders, offering books on subjects such as law practice management, technology in the law office, rainmaking, and client relations. Check out this and many other titles at http://www.lawyersmutualnc.com/risk-management-resources/book-lending-library.