Hybrid Practice in Atlanta is First in Nation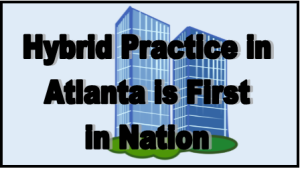 A firm in Atlanta is launching what it calls the first-ever hybrid law practice in the country.
Taylor English Duma, which has about 150 lawyers, plans to hire partners to work remotely from their homes nationwide, creating a virtual hub for the firm, which will keep its main operations centralized in Atlanta.
"Our aim is to marry our brick-and-mortar platform with attorneys from all over the country, and expand our geographic scope and service offerings to benefit our clients," says founding partner Marc Taylor in this ABA Journal story. "We have always been committed to thinking outside the box when it comes to driving client value, and we are excited to be the first law firm to establish this new approach."
Taylor English says its model combines the "best aspects of a traditional law firm with seasoned attorneys managing their practices remotely throughout the US." It says it will offer more support to its work-at-home partners – including support of Atlanta staffers with technology, business development, marketing, accounting and operational issues – than other virtual law firms, according to this report.
Virtual partners will have the same opportunities to become equity partners as their Georgia colleagues. They will get to keep 80 percent of fees from matters they originate and handle. The firm already has an "eat what you kill" compensation system that pays a percentage for origination, so it says the virtual hub system "syncs in effortlessly with the model we already run."
To assist in the transition, each remote attorney will be paired with a senior-level attorney in Atlanta who will guide them through the firm's culture.
The firm says the hybrid structure is a win for them, their remote partners and their clients.
"Some big firms cost so much to operate that they can no longer provide legal services to their clients efficiently or profitably," according to the press release. "We are forgoing fixed real estate costs by hiring these remote partners. And by having exceptional lawyers in more jurisdictions, we are able to serve our existing clients where they are located and where they may be in the future."
What do you think of this idea? We'd love to hear from you.
Sources:
· PR Newswire http://www.prnewswire.com/news-releases/taylor-english-expands-its-national-footprint-with-new-business-model-300486339.html
· ABA Journal http://www.abajournal.com/news/article/atlanta_law_firm_plans_to_add_a_virtual_branch