How Watching The Andy Griffith Show Will Make You A Better Lawyer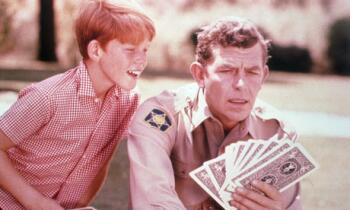 In memory of Andrew Samuel Griffith (1926-2012) born in Mt. Airy, North Carolina.
You have to be from North Carolina to fully appreciate Andy Griffith.
Few Tar Heels have been more revered and no fictional place – Mayberry – has seemed more real. People liked Andy for the right reasons. He was laid-back and modest, tolerant and empathetic. An authority figure both beloved and obeyed. And a fine musician as well, especially when jamming with The Darlings (aka The Dillards).
Any lawyer looking for a role model could do far worse.
Here are five practice takeaways from the Andy Griffith Show.
1. It is better to be respected than feared. "When a man carries a gun all the time, the respect he thinks he's getting might really be fear," said the famously unstrapped sheriff. "So I don't carry a gun because I don't want the people of Mayberry to fear a gun. I'd rather they respect me."
2. Some clients are like Ernest T. Bass. They throw rocks and act strange. But with a little patience and the occasional whack with a stick (see Episode # 133) even an incorrigible hillbilly can be controlled. In the words of Ernest T himself: "If a duck stood still you could catch him by the bill."
3. A little humor goes a long way. Andy was a master at defusing tense situations with gentle humor, often directed at himself. We like people who can laugh at themselves. It is no coincidence that every single one of the Top 10 Andy Griffith Show Episodes of All Time features goofball deputy Barney.
4. Keep it simple. Many law offices are bloated and constipated with regulations that do little but stifle creativity. Simplicity and space breed success. "Now here at the Rock we have two rules," says Barney. "Memorize them until you can say them in your sleep. Rule number one: obey all rules. Rule number two: no writing on the walls."
5. Good manners are good for business. At the end of every episode, Andy signed off with, "I appreciate it, and good night." Small wonder the show was a ratings smash during its eight-year run.
So farewell Sheriff Taylor, and may we meet again at the old fishing hole.