How To Survive The Summer Heat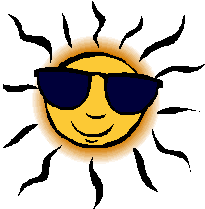 Carolina summers can be brutal – especially on days when your job requires you to wear a uniform of choking neckwear, binding suits and cruel shoes.
Even Casual Fridays can be challenging when you start sweating shortly after stepping from the shower.
But presentation is important. We perform better when we look sharp and feel fresh.
"Business attire means a jacket, shirt, and slacks or a skirt so there's not a lot of room to wear fewer layers," says Findlaw lifestyle writer Deanne Katz. "Instead, make sure every piece you wear is as light as possible."
Stick With Seersucker
Here are some other tips – from fashionistas and business style-setters – on staying cool in the dog days:
Go old school. "Seersucker, madras, hopsack, oxford, and linen all have something in common: they're summer favorites with a distinct texture," writes Josh Peskowitz in Esquire. "And they all serve one purpose — to keep part of the fabric away from the skin. By only touching parts of the epidermis, they allow for air channels to open right up."
Wear lightweight fabrics. "Cotton is a good option since it's breathable and professional," writes Katz. "Linen will also keep you cool though it is prone to wrinkle, so it's a better choice on top than on bottom. Stay away from polyester and poly/cotton blends. They don't breathe well so you'll end up trapping the heat all day."
Don't be a woolaphobe. Wool gets a bad rap when it comes to cool. Some wool blends are breezy. Lightweight worsted wool is designed to breathe.
Wear unlined jackets. Linings – typically made of unforgiving satin, silk or polyester – add an extra layer over the skin. Go with unlined or skeleton jackets. Stick with light colors. Dark colors absorb light and heat.
Wear undershirts. They absorb perspiration and add a cooling layer of insulation.
Carry a handkerchief. A hankie is stylish and perfect for mopping the brow. Color adds flair. A bandana adds hipness. Though perhaps on super-hot days a towel might be required.
Stash a sweater in your desk. It can be quite a shock – and perhaps unhealthy – to step straight from a hot, humid August afternoon into a frigid office building. Ease the transition with a sweater or light jacket waiting at your workspace.
Stash an entire outfit in your office. Let's say that driving in to work you get stuck in traffic and your auto air conditioner is busted. When you arrive at the office you are puddling perspiration and your feet are squishing in soaked socks. And you have a court appearance in 30 minutes. No sweat. You are smart enough to keep a spare change of clothes – including brush and comb – in your closet.
Go with the flow. Long-flowing, loose-fitting garments are best.
Lose the hat. Let your brain breathe. A straw hat, though, offers shade while allowing heat to dissipate.
Don't lace up. Avoid heavy shoes with tight lacing. Loafers are cooler and more comfortable.
When all else fails, put your briefs on ice, cancel your appointments and head for the beach.
Jay Reeves a/k/a The Risk Man is an attorney licensed in North Carolina and South Carolina. Formerly he was Legal Editor at Lawyers Weekly and Risk Manager at Lawyers Mutual. Contact jay.reeves@ymail.com.
Sources: