How to Find the Best Lawyer Apps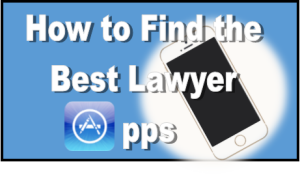 A trending website can help you find the perfect mobile app to boost your practice.
Apps in Law offers reviews and recommendations via short videos and podcasts. The reviewers are real, live practicing attorneys who have actually test-driven the app.
"People are constantly asking me "what's the best app for _______" (fill in the blank with your favorite daily task)," says Ohio legal technology consultant Brett Burney, the founder of Apps in Law. "So here's a list culled from my years of experience helping lawyers incorporate the iPhone and iPad into their everyday practice. I'll keep the list updated as apps are updated and new apps are introduced."
What follows is an easy-to-navigate list of recommended apps for everything from jury selection to web meetups. Many of the products are free. Others cost a few dollars to download.
The site features what it terms "mercifully short, finely-detailed video reviews" of hot apps. Burney does some of the reviews. Others are submitted by lawyers who have used an app and are eager to sing its praises. Reviews are in video and podcast format.
Here are three apps that were recently reviewed and recommended:
TrialPad. A "rock-steady" trial presentation tool, says a reviewing attorney from Missouri.
Notability. A note-taking and pdf annotation app that one Ohio lawyer says he never goes to court without.
Timeline 3D. An easy way to create elegant and stylish timelines on your iPad or iPhone, says Burney.
Apps, Apps and More Apps
Apps are everywhere. There are close to 2 million in the Apple App store and 2.2 million on Google Play. Fifty-two percent of the time people are on digital media, they're using a mobile app, according to this source. Mobile downloads are projected to exceed 268 billion this year.
Numbers like that can boggle the mind. They can also make it hard for busy lawyers to figure out what apps – if any – might help their practices, which is where Apps In Law comes in.
Burney, who chaired the 2015 ABA Techshow, uses four criteria for evaluating apps:
Easy-to-use and intuitive. The app must not require a large learning curve.
Build quality and "polish." The app should look sharp and work fluently.
Functional and efficient. The app must enable lawyers and legal professionals to do their day-to-day work more efficiently.
Tech support. The app is supported by folks who care about their customers.
What are your favorite apps? Share them with us.
Sources: