How to Cut a Bad Client Loose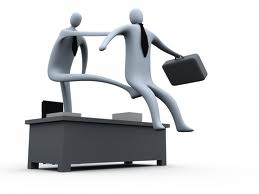 Some clients are bad news, and your best move is to cut ties with them as soon as possible. Otherwise you risk going down with the ship.
Consider this case from Pennsylvania. A client went down to the Allegheny Township magistrate's office to pay a fine, only to find himself short of cash when he got there. So what did he do? He stole a wallet from the judge's office and used the money to pay his fine, according to this account in the ABA Journal.
There was only one problem. A security camera caught him in the act of swiping the wallet and stuffing it in his pocket, and he was booked for misdemeanor theft. Oh yeah, there was also the little matter of a previous charge of simple assault, for which bail was promptly rescinded.
Now I know nothing about this man. He could be Citizen of the Year, and there might be a perfectly reasonable explanation for his behavior. But simply looking at the above facts – and setting aside issues of presumption of innocence and right to counsel – the question remains: is this the sort of client on which you can build a profitable and satisfying law practice?
Breaking Up is Hard to Do
Lawyers are trained to help people. It's in our DNA. We also like to follow through on our commitments.
So when we find ourselves working for a difficult client – someone who doesn't follow our advice, who persists in doing dumb and self-defeating things, who saps our time and energy and brings us ever closer to a malpractice claim or bar grievance – it is not always easy to end the relationship.
A little voice whispers in one ear to hang in there, helicopter in, rescue this needy client yet again.
Don't listen. Heed the saner voice in your other ear saying, Get out of the case and turn your attention to productive and profitable matters. You owe this to your partners, staff and other clients. You owe it to yourself.
And sometimes ending an unhealthy, co-dependent relationship is the best thing you can do for your client.
Do it The Right Way
Obviously, withdrawal from representation should not be done in haste or the heat of the moment.
"Take the time to assess the particular situation, including the basis for wanting to terminate the relationship, the type of matter in which they are representing the client, and the stage in the proceedings," says Seth Laver of Professional Liability Matters. "A professional is in a better position to end the relationship if the client is engaging in improper activity, as opposed to a personal reason such as not paying bills. Likewise, all professionals should take into account the timing of the withdrawal and complexity of the matter, so that the client is not prejudiced and has sufficient opportunity to retain a new professional."
If the matter is in litigation, court approval might be required before you withdraw. And even when the relationship is over you cannot disclose sensitive or confidential information.
"[T]ake steps to make the withdrawal as smooth as possible by helping to retain a replacement if appropriate, securing and transferring all files, and making itself available as a resource for the new professional if a need arises," advises Laver.
4 Risk Management Tips on Withdrawing From Representation
Use disengagement letters so there is certainty as to when the professional relationship ended.
Download this free "Attorney-Client Agreements Toolkit" from Lawyers Mutual.
Call Lawyers Mutual and talk with a claims attorney before withdrawing if you're unsure how to do it.
Follow Rule of Professional Conduct 1.16 – Declining or Terminating Representation.
How do you disengage from problem cases?
Sources: