How Practicing Law Is Like Tasting Wine and Hitting a Baseball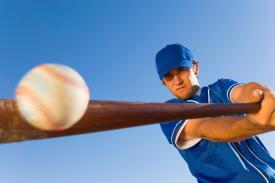 What does a grooved fastball to Derek Jeter, the subtle intricacies of wine-tasting and a photograph of the First Lady have to do with practicing law?
Quite a bit, it turns out.
Let's start with baseball.
Mr. Wainwright's Regrettable Admission
New York Yankee captain Derek Jeter, who has announced that he will retire at the end of this season, is one of the greatest shortstops of all time. The future Hall of Famer has worn pinstripes his entire career and done so with class and distinction. He has a reputation of being a good guy, admired by fans, teammates and opponents alike.
When he was picked to play in this year's Major League All-Star game, the stage was set for high drama. This would be Jeter's big night. Even though at age 40 his skills have dropped off, he remains one of baseball's brightest lights. Everyone wanted to see him go out in style.
And so when in his very first at-bat he lined a double into the outfield, the stadium went nuts. All was right with the world … at least for one brief, shining moment.
But then Cardinals pitcher Adam Wainwright had to go and open his big mouth. On live television, Wainwright said he had tossed Jeter an easy pitch – in baseball parlance a "pipe shot."
"I was going to give him a couple of pipe shots," Wainwright told the press. "I didn't know he was going to hit a double, though. I thought he'd line a single to right, or maybe a ground ball…. I probably should have pitched him a little better than that."
Uh-oh. Wainwright quickly tried to walk back his comments. He said he was just joking. He called himself an idiot.
Jeter laughed the incident off in his typically classy way.
But the cat was out of the bag. The curtain had been pulled back to reveal a less-than-wizardly occurrence. This wasn't Field of Dreams. It might have actually been rigged. That possibility left everyone – probably Wainwright included – feeling a bit deflated.
Risk management lesson: think before you speak. Then think some more.
Don't Whine About Cheap Wine
Any wine lover can tell the difference between a pricey, vintage burgundy and a cheap bottle from the grocery store, right? Wrong.
Columbia University researchers did a blind test in which subjects were asked to rate two glasses of wine according to which one tasted better and which one they thought was more expensive. Before taking the first sip, they were given back stories on both wines, though they weren't told which was which. Glass A, for example, might have come from a family vineyard in France where each grape was lovingly plucked by artisanal hands, while Glass B came from a large corporate winery.
What this did was establish a context for the tasting experience.
"[The] premise is that no event or object is ever experienced in perfect, objective isolation," writes Maria Konnikova in The New Yorker. "It is instead subject to our past experiences, our current mood, our expectations, and any number of incidental details—an annoying neighbor, a waiter who keeps banging your chair, a beautiful painting in your line of sight. With something like wine, all sorts of societal and personal complications come into play, as well. We worry, for example, about whether our taste is 'good.'"
The test results were across the board. Half the subjects thought Glass A (artisanal) tasted better; the other half liked Glass B (grocery store). Significantly, though, all firmly believed that the glass they preferred was the more expensive. In other words, they linked taste to price.
"[P]eople's expectations of a wine's price affected their enjoyment on a neural level: not only did they report greater subjective enjoyment but they showed increased activity in an area of the brain that has frequently been associated with the experience of pleasantness," writes Konnikova, citing other studies reaching the same conclusion.
Bottom line: expectations and context (including the temperature in the room, background music, even the color and design of the label) influence the subjective quality of your experience.
Risk management lesson: your client's perception of your performance might depend less on the final outcome than on minor details along the way.
Pride and Photographs
In May, Michelle Obama visited Topeka, Kansas to honor the 60th anniversary of the Supreme Court's landmark Brown v. Board of Education decision ending racial segregation in America's public schools. While there, she posed for a photograph before a stark and ugly artifact of that time – a White/Colored sign like the ones displayed on businesses, public facilities and drinking fountains in the South.
The First Lady also addressed recent high school graduates: "I believe that all of you — our soon-to-be-graduates — you all are the living, breathing legacy of this case," she said. "Not only are you beautiful and handsome and talented and smart, but you represent all colors and cultures and faiths here tonight. That's why we're celebrating here tonight."
Risk management lesson: America is one nation, indivisible, and lawyers played a prominent role in making it that way.
Sources:
Jay Reeves a/k/a The Risk Man is an attorney licensed in North Carolina and South Carolina. Formerly he was Legal Editor at Lawyers Weekly and Risk Manager at Lawyers Mutual. Contact jay.reeves@ymail.com.