How One Happy Customer Sold Millions of Pies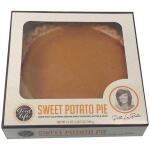 Patti Labelle's pies are flying off the shelf, and much of the credit goes to a single happy customer. 
There are two important lessons here for lawyers looking to grow their practice.
Labelle – known as the "Godmother of Soul" and the "High Priestess of Good Vibrations" – has had a sensational half-century career as a singer and actress. She has sold more than 50 million records, earned a star on the Hollywood Walk of Fame and won a basketful of Grammy Awards.
These days, though, she's making headlines for her desserts, not her 1974 hit "Lady Marmalade."
The buzz started when a Chicagoan named James Wright went to Wal-Mart and bought five Patti LaBelle Sweet Potato Pies. When he got home he turned on his video camera and taped a real-time culinary review while devouring a whole pie.
To say he enjoyed the tasty confection is an understatement. He howled in delight. He burst into song. He told viewers that eating a few bites would turn you into Patti LaBelle.
Naturally, the video went viral and James Wright became an Internet celebrity.
Within days, Wal-Mart – which was the only place you could buy the pies – had sold out all across the country. People were lining up at the few stores that still had some. Sellers were auctioning them on eBay starting at $100.
And all because a charismatic pie enthusiast in the Windy City posted a rhapsodic review on YouTube.
Lesson 1: All it Takes Is One Favorable Review
When I was an associate at a general practice firm, my boss used to tell us to treat every client as if they had a million-dollar case. It was a nice thing to say, and I got the point, even if I did think it was a bit corny.
One of my first clients was a guy named Barry. He came to us for a minor criminal matter. It was hardly a million-dollar case, and he was a real pain. He called often and griped about everything. He asked me to do things beyond I had been hired to do. But I did my best and treated Barry the way my boss expected me to.
Needless to say, I was glad when his case was over and his calls stopped. But then months later he called again. This time, he asked if we did maritime law. I was about to say no, but then I remembered my boss also said we should always invite prospects – even ones that did not seem particularly promising – into the office, at least for an initial interview. Because, well, you never know.
It turns out Barry's father had been killed in an accident on an off-shore oil rig and Barry wanted to pursue compensation.
That one actually was a million-dollar case. And it came about because of a mundane, middling misdemeanor.
Lesson 2: The Media is the Message
According to the old business adage: a satisfied customer will tell a friend or two about you, but a dissatisfied one will tell ten or twenty.
Multiply that times a thousand with social media. A Facebook post or tweet can reach an audience far beyond your office environs. Make sure they're tweeting only great things about you.
It only takes one satisfied client singing your praises to attract countless others. That's true whether you're selling sweet potato pies or legal services.
Source: Huffington Post http://www.huffingtonpost.com/entry/this-guys-reaction-to-patti-labelles-pie-is-priceless_56462789e4b08cda34889829
Jay Reeves a/k/a The Risk Man practiced law in North Carolina and South Carolina. He is a former Legal Editor at Lawyers Weekly and Risk Manager at Lawyers Mutual. Contact him at jay.reeves@ymail.com.