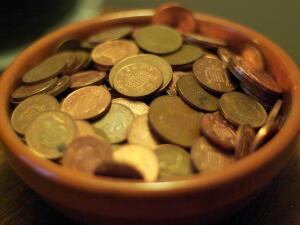 Plaintiffs might dream of settling their cases for buckets of money, but few imagine it might actually happen.
It did for 76-year-old Andres Carrasco of East Los Angeles. And it turned out to be a nightmare, not a windfall.
Nickel and Dimed
Mr. Carrasco sued Adriana's Insurance Services in 2012 after getting into an argument with an agent over an auto policy cancellation and being physically thrown out of the office. In June 2014 he settled his lawsuit – which alleged physical assault and other claims – for $21,000.
That's when things got really interesting.
The company paid up by sending more than a dozen plastic pails of quarters, nickels, dimes and pennies to Mr. Carrasco's attorney's office. It took eight burly agents just to carry the loot. When they arrived, the attorney refused acceptance, saying he couldn't verify how much was in the buckets. But the next day, the cache of cash reappeared in his lobby.
"There's maybe 17 buckets of coins," the lawyer said. "They probably each weigh anywhere between 70 to 100 pounds. I'm assuming, because I can't lift them."
The attorney said the ploy, while not illegal, was definitely insulting.
"[My client] is 76 years-old, he just had a hernia operation. Come on. He feels that he wasn't treated as a human being."
But Mr. Carrasco may have the last laugh. His lawyer says if the payoff turns out to be so much as a penny short – the coins were sent to a bank for counting – he plans to haul the insurer back into court to recover the balance due, plus reimbursement for costs and sanctions.
Sad Quarter Saga
Meanwhile, nobody was laughing in Illinois where a retired surgeon repaid an insurance award in quarters. The doctor had received a settlement following the 2001 auto death of his son. But the apportionment of the insurance proceeds was contested by survivors of the crash. After years of legal wrangling a court ordered the doctor to return $500,000 he had previously received.
He did so by withdrawing four tons of quarters from the Federal Reserve in St. Louis, loading them onto a flatbed truck and delivering them to two law firms representing the adverse parties. The doctor said he had wanted to pay in pennies but they were too heavy. He said the experience had left him angry and bitter.
The lawyers who received the quarters – which arrived in piles of 50-pound plastic sacks – said they were stunned by the unannounced delivery. They were also worried about burglars, given the unwanted media attention and the fact that their firm lacked a safe large enough to hold it all.
Samsung Coin Hoax
And then there is the cash payout that wasn't.
Back in 2012, Samsung – at the time the world's largest maker of cell phones – was ordered to pay Apple $1.05 billion in damages for copying patented features of Apple's iPhone and iPad.
A story began circulating on the web that Samsung paid the infringement award in nickels. The original source was a humor site. But as the article was passed along it began being reported as fact. And before you could say bogus, an urban legend was born.
Anyone who took the time to think the matter through would have seen it was a myth. Twenty billion nickels – the sum required to pay the judgment – was the equivalent of all the nickels struck by the U.S. Mint in several decades. Samsung would have had to scoop up almost every five-cent piece in circulation to come up with enough coins.
My guess is you've never settled a case with an armored truck full of coins. But have you participated in a settlement that was unusual or unique in other respects? We'd like to hear about it.
Sources:
Jay Reeves a/k/a The Risk Man has practiced law in North Carolina and South Carolina. Formerly he was Legal Editor at Lawyers Weekly and Risk Manager at Lawyers Mutual. Contact him at 919-619-2441 or jay.reeves@ymail.com.