How an Emoji Can Land You in Court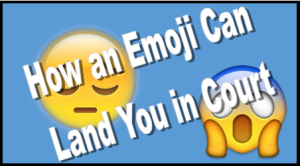 Be careful before adding a smiley face or thumbs-up emoji to your next email or text.
You could be communicating a message you don't intend – and you might even be opening yourself up to a lawsuit.
The danger is greatest in the workplace, where ill-considered emoji have spurred sexual harassment claims, and employers are scrambling to revise their policy manuals.
But risks lie outside the office as well.
A case in point: a couple texted some playful emoticons to a landlord, only to find themselves trapped in a binding rental agreement. Responding to an apartment listing, the couple sent the landlord a string of emoticons – including a smiley face, a champagne bottle, a chipmunk and dancing Playboy bunnies, according to the Wall Street Journal (sub req). The landlord, thinking they wanted the property, took down the listing. When they backed out, he sued.
A judge ruled for the landlord, saying the couple had negotiated in bad faith. They had to pay one month's rent as damages.
Another case went the other way. A plaintiff sued for defamation after a negative comment on a message board ended with a :P emoji. The Michigan Court of Appeals said the emoji "is used to represent a face with its tongue sticking out to denote a joke or sarcasm" and could not be construed as defamatory.
33 Emoji Cases and Counting
All told, emoji and emoticons played a role in at least 33 court rulings in 2017, according to this source. That number is steadily increasing.
"We're not only looking at words anymore," says one lawyer here. "We now have symbols."
Even so, legal experts caution against reading too much into emoji litigation. They say different people read different meanings into them. As such, the cartoon symbols are simply too subjective to carry much legal weight.
But all agree emoticons in the workplace are another matter. Employment lawyers say workers who use them should exercise care and discretion – or better yet, avoid them all together.
Meanwhile, lawyers are advising business clients to review and revise their employee guidelines to cover emoji usage.
Emojis and Workplace Policies
Some 2.3 trillion mobile messages were sent worldwide in 2016, according to Emogi Technologies of New York. Many included emoticons. By this measure, emojis are the fastest-growing language in the world.
This doesn't include the countless other online communications that featured a GIF, sticker or other visual cue.
But what's acceptable among friends might be actionable in the workplace.
"It's not a legal requirement, but it would be a good idea to review electronic communication policies and make sure it includes the use of symbols," says Kelly Hughes of Ogletree Deakins in this article. "I think it's become prevalent enough that it would be a good business practice to do so."
Emojis and Sexual Harassment
A particular source of concern is sexual harassment. You might think you're making a joke when you send a heart or a sly wink. The recipient, though, might find it overly intimate and offensive. If this behavior becomes persistent and routine, trouble is sure to follow.
"There have been numerous cases that involve the use of emojis as well as 'likes' on social media that involve claims of harassment," says one employment lawyer. "Such communications have been cited by employers as evidence of a hostile environment."
Another risk: even an innocuous emoji can suggest a lack or seriousness. One survey found that more than a third of senior managers say it's unprofessional to include them in work communications. Another study showed that – unlike actual smiles – a smiley emoticon creates a perception of incompetence.
What about your office? Do you have a policy regarding emoticons?
Sources: