Honoring Fathers Present and Past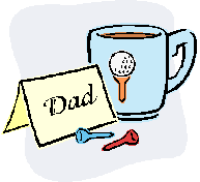 How much do you know about Father's Day?
Take this quick quiz and find out (answers below):
Which national celebration came first: (a) Father's Day (b) Mother's Day?
The first reported Father's Day service was held in: (a) a VFW hall (b) a church (c) a courtroom
The formal push to commemorate Father's Day began in: (a) Salisbury NC (b) Spokane WA (c) Spartanburg SC
A date in June was selected because: (a) it fell a month after Mother's Day (b) it was the birth date of the founder's father (c) it came in the month when men traditionally made marriage proposals
Like its maternal counterpart, Father's Day was quickly embraced as an important, worthy holiday. (a) True (b) False
Father's Day was signed into law by: (a) President Kennedy (b) President Nixon (c) President Roosevelt
Once it became a holiday, everyone climbed aboard the Father's Day love train. (a) True (b) False
The official Father's Day flower is: (a) carnation (b) rose (c) poison ivy
According to the census, there are how many fathers in the US: (a) more than 25 million (b) more than 70 million (c) unknown
In America, the average amount spent for Father's Day gifts – including the cost of meals and entertainment – is: (a) $20 (b) $117 (c) $250
Trio of Top NC Dads Recognized
Bonus Question: Name three North Carolina lawyers recently honored as fabulous fathers.
Answer: Allan Head, William Scoggin and Robert Norris.
This trio received Father of the Year Awards from the American Diabetes Association and the Father's Day Council. They joined the ranks of top pops in 36 regions across the country.
Allan Head has been Executive Director of the N.C. Bar Association since 1981. He is a graduate of Wake Forest University and Wake Forest University School of Law.
William Scoggin is managing partner of the Raleigh office of Troutman Sanders LLP. A graduate of Wake Forest University and UNC School of Law, he was previously the director of governmental affairs for the NCBA.
Robert Norris is co-founder and managing partner of Wishart Norris Henninger & Pittman. He is a graduate of Davidson College and UNC School of Law and has been honored by the City of Burlington for outstanding contributions to the community.
These three fathers were praised as outstanding role models for making family a priority while balancing a demanding career and community involvement. These fathers really do know best.
Answers:
(b) Mother's Day came first
(b) A Father's Day service was held in a Methodist Church in West Virginia in July 1908 to honor victims of the Monongah Mining Disaster, in which 361 men – 250 of them fathers – were killed, leaving a thousand children fatherless.
(b) Father's Day was founded at a YMCA in Spokane, Washington in 1910 by Sonora Dodd. She wanted to honor her Civil War veteran dad – a single parent of six children.
(b) This was the date Sonora Dodd's father was born.
(b) Father's Day was initially a bust. Everyone from politicians to preachers slammed the new "folly-day" as little more than a cynical marketing ploy by trade groups to sell more neckties, mustache trimmers and tobacco pipes. Even its founder lost interest and moved to Chicago.
(b) The day was made a permanent national holiday by President Nixon in 1972.
(b) Groups like the Father's Council complained that the event has morphed into a second-rate Christmas for men's gift-oriented industries.
(b) Rose
(b) An estimated 1.7 million are single fathers.
(b) This is according to the National Retail Federation, which say dads get less swag than moms (an average of $152 spent for Mother's Day).
Jay Reeves a/k/a The Risk Man is an attorney licensed in North Carolina and South Carolina. Formerly he was Legal Editor at Lawyers Weekly and Risk Manager at Lawyers Mutual. Contact jay.reeves@ymail.com, phone 919-619-2441.
Sources: