Hey Baby, Let The Good Times Roll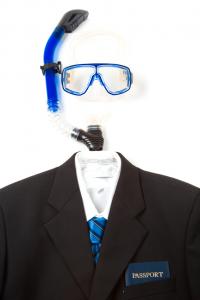 Everybody let's have some fun.
You only live but once and when you're dead you're done.

Everybody needs a break now and then.
Especially lawyers, who spend too much time doing things that leave us with slumped shoulders, sore spirits and sagging self-esteem.
So come on baby let the good times roll.
And while you're at it, why not let them really roll?
How about doing something different on your next vacation or long weekend? Veer off the beaten path. Take a plunge into the unknown.
Roll Outside Your Comfort Zone
Here are a few suggestions for some offbeat – and awesome – outings. Most are quite affordable. Some are free.
And while it's always a good idea to make plans as far in advance as possible, many of the following destinations can be booked at the last minute.
So, as they say in the Southern Wilds: "Laissez les bons temps rouler!"
Outer Banks driving tour. Sure, you may have lived here your whole life here and know all about the Outer Banks. But have you experienced their simple beauty and elegance on a leisurely automotive trek? The Outer Banks Driving Tour is a 130 mile cruise through pristine beaches and endless estuaries. Car surf through Bodie Island, Roanoke Island, Hatteras Island and Ocracoke Island. Learn more here.
This is yurt's lucky day. Perhaps you agree with Architectural Digest that the humble yurt is "an architectural wonder, with round fluid lines and natural light, an ancient Asian design that speaks of adventure and romance." Or you might consider a yurt little more than a tent on steroids. Either way, there's no denying that North Carolina has become a yurt mecca, with developers constructing high-dollar units on mountainsides and other locales offering breathtaking views. 
"Looking out through the many large windows, one feels as if they are in a tree house, high up in the branches," describes one ad. "The natural surroundings provide the perfect backdrop to the glamping experience. With light fir floors, air conditioners, a fireplace, and dimmable halogen lighting, our yurts are perfect for a romantic getaway. A ceramic tiled wall, with shoji, screens the kitchen and dressing areas from the living/sleeping area. Learn more here.
The Beaufort Underwater Bike Race. No bike? No problem. Organizers will be happy to loan you a bike for the big day. This annual Fourth of July race begins at the starboard side of the Indra mid-afternoon. There is a Bike Decorating Bonanza at the dive shop prior to departure. Prizes are awarded for Best Dressed Bike and Rider. Swimming, pushing, pedaling or dragging are all allowed – as long as no motor is involved. It's all in fun – and for a great cause: Children's Mile of Hope (supports cancer research). Learn more here.
Gnome home. Here's a day trip for all gnome-fanciers. Billing itself as a "paradise and gnome biome nestled in the rolling hills of Amish farmland in southern Lancaster County, Pennsylvania," Gnome Countryside is a place for camping, hiking, and learn more about the folkloric, bearded little people.
Wave the checkered flag. Like big engines and fast cars? Check out the "Backing Up Classics" auto museum next to Charlotte Motor Speedway. The 18,000-square-foot facility is home to 50 classic cars, muscle cars and even a Camaro owned by Roy Orbison. Learn more here.
Handicrafts and more. Folk art and local crafts provide a link to yesterday's good times. The historic Shelton House, home to the Museum of North Carolina Handicrafts, has vast collections of pottery, woodcarving, basketry, metalwork, weaving, quilting, marquetry and other fine crafts. Some items date back to the mid-1700s. Visit the website here.
Two For the Road
You in an igloo. At Ittoqqortoormiit, Greenland, you can live in an igloo among the Inuit and wildlife of Igloo Village. Dog sledding, frozen fjords, deserted villages and sleeping in an ice cave are just a few of the things you can do at this cold weather destination.
La La Land. For a truly bizarre excursion, take off for Landers, California and visit the time-travel machine Integratron. The creator was an aeronautical engineer who once worked with Howard Hughes and went on to become a leader in the UFO movement. Some claim to have made actual contact with extra-terrestrials at the Integraton. Others ascribe spiritual and physical healing powers to the site.
And some even believe the Integratron can whisk you back and forth in time – which might come in handy if you've missed a deadline and need a do-ever.
I don't care if you're young or old,
Come on baby, let the good times roll.
Sources:
Jay Reeves a/k/a The Risk Man is an attorney licensed in North Carolina and South Carolina. Formerly he was Legal Editor at Lawyers Weekly and Risk Manager at Lawyers Mutual. Contact jay@lawyersmutualnc.com or phone 919-619-2441.