Here are the Worst Traffic Spots in the U.S.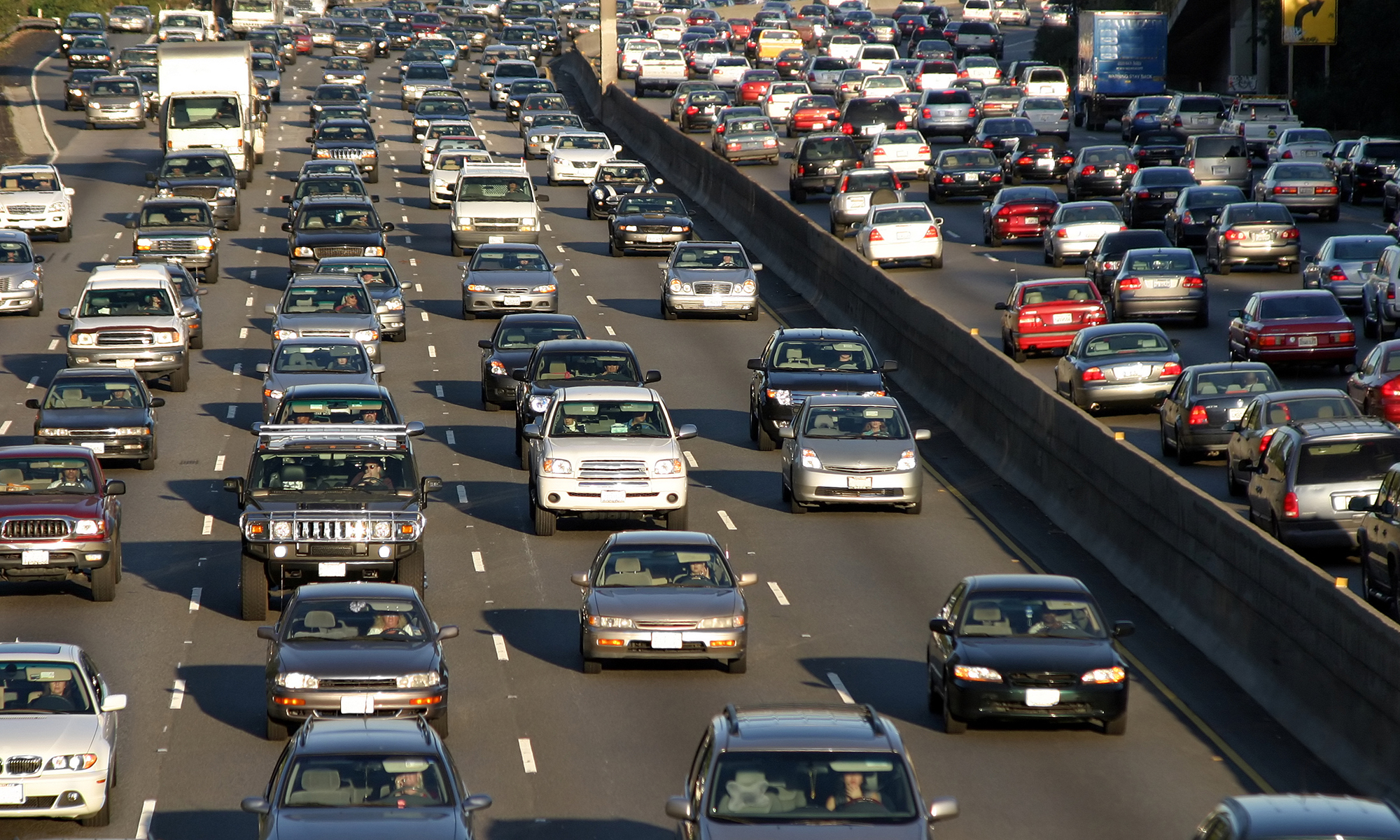 If you're planning a road trip, you might want to take a wide detour around New York, Houston and Boston.
Those are the worst places in the country for traffic congestion right now. On the other hand, the Los Angeles area – which has ranked first for highway congestion every year since 1982 – has dropped to number four on the "terrible traffic" list.
Closer to home, the snarled spots are Raleigh and Charlotte.
Those findings are from the 2021 Urban Mobility Report, an annual survey of traffic trends across the country.
"They held the title for nearly 30 years, but Los Angeles residents can no longer claim they have the worst traffic in the country," writes Jordan Mendoza for USA Today. "The 2021 Urban Mobility Report showed the New York-Newark region now has the worst traffic. The rankings are based on the total amount of hours drivers were delayed. The New York-Newark region spent 494,268 hours stuck in traffic last year, while the Los Angeles-Long Beach-Anaheim area had 365,543 hours of time in traffic."
One noteworthy finding from this year's report: the pandemic and related lockdown orders dramatically reduced the number of vehicles on the road, causing traffic delays to plummet as well.
"The drop in traffic was spread throughout the country," Mendoza writes. "The top 15 cities with the worst traffic in 2020 combined dropped, on average, from 312,680 to 152,347 total hours."
Read A New Study Reveals Which US City Has the Worst Traffic, and It's No Longer Los Angeles in USA Today here.
Read the 2021 Urban Mobility Report here.
Are you familiar with Lawyers Mutual Consulting & Services? Founded by Camille Stell, who also serves as president, LMCS is a subsidiary of Lawyers Mutual. Its mission is to help firms build a modern law practice. It does that by offering expert advice and assistance with law firm trends and best practices. Camille and LMCS help lawyers and firms create strategic plans and succession plans. A popular speaker and writer, Camille loves to guide lawyers through succession planning and into Life after Law. Contact her today.
Worst Places for Traffic Delays
New York-Newark (drivers spent an average of 56 hours waiting in traffic in 2020
Boston (50 hours)
Houston (49 hours)
Los Angeles-Long Beach-Anaheim (46 hours)
San Francisco-Oakland (46 hours)
…
Charlotte (24 hours)
…
Raleigh (17 hours)
Four Traffic Patterns in 2020
The year 2020 was remarkable in many respects, including its impact on vehicle traffic nationwide.
"Daily commuter traffic dropped by almost half compared to the year before," according to the 2021 Urban Mobility Report. "Any traffic snarls that did exist were spread over more hours of the day, as rush hour travelers took on roles as midday shoppers and child transporters. Also, more of each week's travel delay in 2020 was shifted to the weekend, another result of reduced weekday rush-hour commuting."
According to the report, the year 2020 saw four distinct traffic phases:
In January and February 2020, traffic was similar to 2019.
In March through May, the national lockdown emptied roadways to a degree not seen since the 1980s.
In June through August, rush hours began to reappear.
By September 2020, delay conditions were creeping back toward normal.
Summer/Fall 2021 Driving Tips
If you're planning an extended road trip, it's wise to pack an emergency roadside kit. Here's what the National Highway Traffic Safety Administration says you might consider including in it:
Cell phone and charger
First aid kit
Flashlight
Flares and a white flag
Jumper cables
Tire pressure gauge
Jack (and ground mat) for changing a tire
Work gloves and a change of clothes
Basic repair tools and some duct tape (for temporarily repairing a hose leak)
Water and paper towels for cleaning up
Nonperishable food, drinking water, and medicines
Extra windshield washer fluid
Maps
Emergency blankets, towels and coat
Sources: 2021 Urban Mobility Report; USA Today, National Highway Traffic Safety Administration
Stay on top of things by being insured with Lawyers Mutual. Our email newsletter "Practice Reimagined" offers timely tips, pointers and valuable links to help you navigate the new normal.