Having a Plan in Place Could Save a Life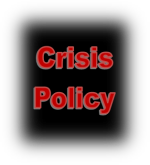 Working in the legal field comes with responsibility and stress for both lawyers and their support staff. Clients are often facing difficult situations. They may be under financial stress, marital discord or suffering from physical injury. What happens when a distraught client calls and threatens to take his or her life?
Below you will find a list of resources and tips to guide you in dealing with a crisis situation.
First, it's hard to talk someone through a tough situation when you're not sure what the distressed person is feeling. Here's a list of what clients may feel during this time:
Be Aware of Feelings (via www.suicidepreventionlifeline.org)
Can't stop the pain
Can't think clearly
Can't make decisions
Can't see any way out
Can't sleep, eat or work
Can't get out of depression
Can't make the sadness go away
Can't see a future without pain
Can't see themselves as worthwhile
Can't get someone's attention
Can't seem to get control
Developing a Policy
Here are some questions to consider when developing a policy that best fits your firm.
1) Should the client automatically be put through to the attorney?
2) Should you put the client on hold to find the attorney?
3) Who will be the next point of contact if the attorney is not available?
4) Should you call emergency medical services or a suicide prevention hotline?
5) Will emergency medical services be contacted immediately or following a pre-determined number of attempts at handling the situation?
6) Should you notify the client that you are contacting emergency medical services?
7) What happens if the client hangs up after making the threat?
8) Should you recommend that your client call a suicide prevention hotline?
9) Should the number to the suicide prevention hotline be placed by each phone in your office?
10) Is it necessary to have someone else on the line with you as a witness to the conversation?
11) How will crisis calls be documented?
12) What will be the course of action concerning the client's representation once the situation has been resolved?
This is not intended to be a complete list of questions. These questions are to act as a guide in helping you think through all the issues that may need to be addressed when dealing with this crisis situation in your firm. You are welcome to add questions to this list as you move toward developing a crisis policy that works best for your staff.
Here's an example of a Client Suicide and Self Harm Policy. This policy may be used more often in a medical setting, but you may find it helpful as a guide to developing your own as it relates to your firm.
Resources exploring self-harm - AOD Resource Finder - NADA
Guidelines for Dealing with Suicidal Clients - ACA Suicidal Client Guidelines Ver 3.pdf (theaca.net.au)

Ethical Issues
The attorney-client privilege and ethics rules have caused much debate within the legal community surrounding reporting a client's threat of suicide. Below you will find some articles and professional opinions concerning this issue.
Disclose a Confidence or Watch a Man Die? : Client's Suicide Plan Puts Lawyer on Spot
Client Suicide and Attorney Ethics
A Client Threatens Suicide—What Can You Do? | North Carolina State Bar
The Legal Burnout Solution: Suicide Awareness and Prevention
Suicide Prevention Programs: What the Legal Profession Can Learn from the Military
Attorney suicide: What every lawyer needs to know

Education and Training
The key in dealing with issues such as suicide threats lies in proper education and training. The ABA offered a complimentary course, "Recognizing the Warning Signs of Suicide in Your Clients and Colleagues" on their website. Contact the ABA to find out what other resources and training they offer in this area.
Have open conversations with your employees about issues and do what you can to maintain a positive work environment and firm morale.
The QPR Institute | Practical and Proven Suicide Prevention Training QPR Institute (en-US) provides training to individuals and groups on how to address the issue of suicide. Training will enable you and your staff to:
Recognize the warning signs of suicide
Know how to offer hope
Know how to get help and save a life
After reviewing the materials provided, you may decide to train your staff in how to talk to someone on the phone who is threatening suicide. Here are important tips in how to be helpful to someone who is in this crisis situation:
How to be helpful to someone who is threatening suicide (via www.suicidepreventionlifeline.org)
Be direct. Talk openly and matter-of-factly about suicide.
Be willing to listen. Allow expressions of feelings. Accept the feelings.
Be non-judgmental. Don't debate whether suicide is right or wrong, or whether feelings are good or bad. Don't lecture on the value of life.
Get involved. Become available. Show interest and support.
Don't dare him or her to do it.
Don't act shocked. This will put distance between you.
Don't be sworn to secrecy. Seek support.
Offer hope that alternatives are available but do not offer glib reassurance.
Get help from persons or agencies specializing in crisis intervention and suicide prevention
Support for Distressed Lawyers & Staff
The practice of law is stressful. Knowing how to provide support to lawyers and staff is just as important as dealing with distressed clients. Consider offering training and developing policies which create a safe environment for employees to express concerns for themselves and others.
The Suicide Prevention Resource Center offers a training guide to co-workers: The Role of Co-Workers in Preventing Suicide in the Workplace
BarCARES (Confidential Attorney Resource and Enrichment Services) is a program offered by the NC Bar Association developed to offer support for attorneys and their families. This program offers support in dealing with issues concerning: personal, family and work life. BarCARES also offers student support and stress management. You can contact BarCARES at 1-800-640-0735 for more information.
The NC State Bar Lawyer Assistance Program is a service of the North Carolina State Bar which provides confidential assistance to NC lawyers. The program helps address issues concerning alcoholism, other drug addictions and mental health disorders. For more information contact 919-719-9290 or visit the website at www.nclap.org to contact the representative for your county.
Dealing with the threat of suicide whether from a client or staff member can be very stressful. Although suicide threats are not an everyday occurrence in a law office, your firm must be prepared to handle such a crisis. Having a plan in place to deal with suicide threats could save a life.