Five Newest McMillan Lawyers Exemplify Professionalism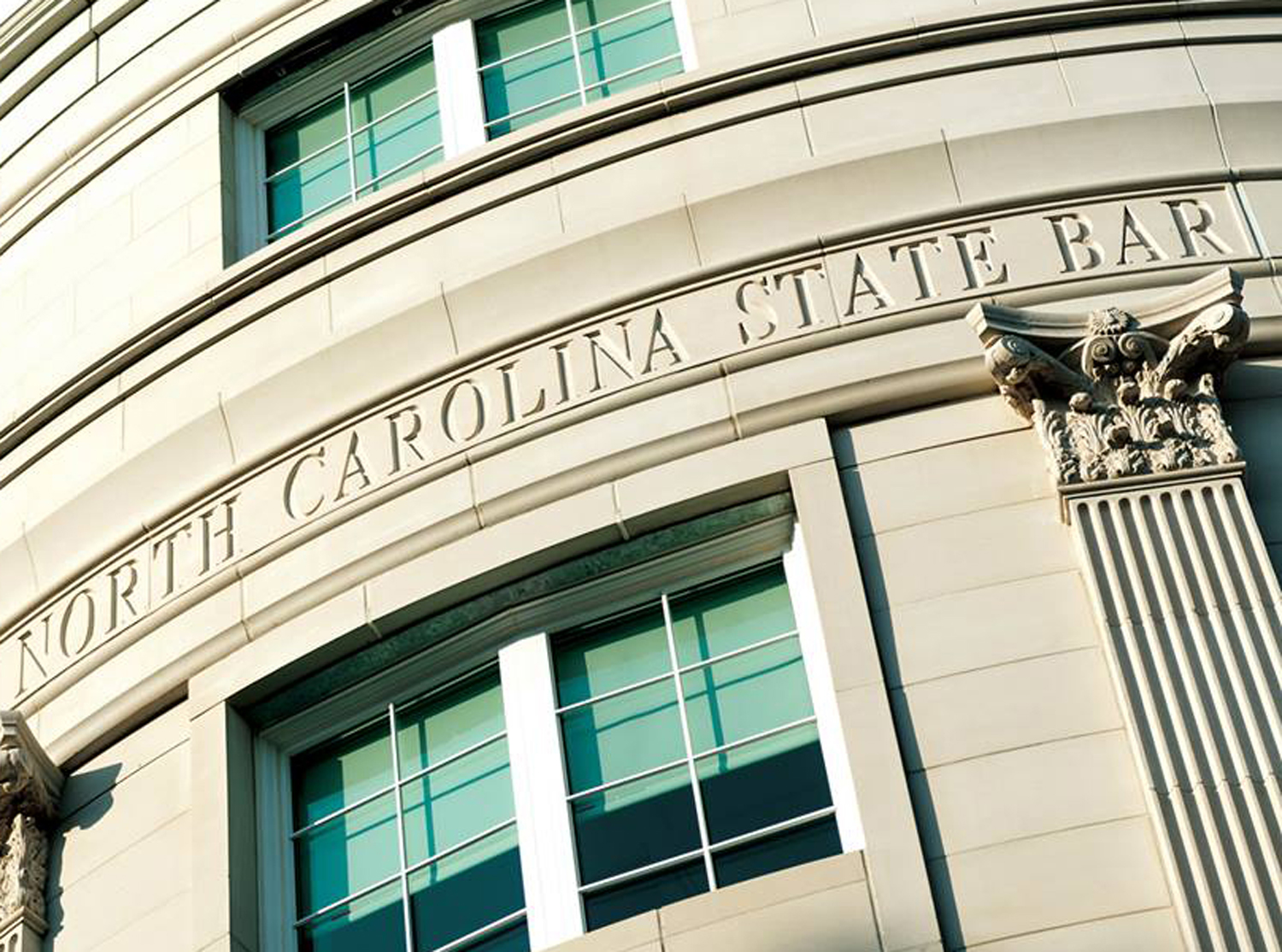 If you want a definition of professionalism, look no further than the four newest recipients of the John B. McMillan Distinguished Service Award.
They are lawyers, counselors, litigators, teachers and public servants.
"The Distinguished Service Award has been awarded to each of these individuals in recognition of their work to enhance and strengthen legal education, to further the public's understanding of and confidence in the rule of law and the justice system, to encourage professionalism among Bar members, and to assure equal access to our judicial system," says the NC State Bar. "All of these lawyers are most deserving recipients."
Our Byte of Prevention blog brings you news on the North Carolina legal community. Our Client Services Department is available to help you work through challenges, whether it's building teamwork or improving your bottom line. Stay ahead of the curve by being insured with Lawyers Mutual. We're here to keep you safe and successful.
Victor J. Boone
Mr. Boone received his undergraduate degree in political science from the UNC-Chapel Hill in 1972 and his law degree from NC Central University in 1975. Upon graduation from law school, Mr. Boone went to work as a staff attorney at the Wake County Legal Aid Society, which later, after several name changes, merged with Legal Aid of North Carolina (LANC).
From 2002 until 2020, Mr. Boone served in a dual capacity as the senior managing attorney for the Raleigh office of LANC and regional manager for the Triangle Region (Raleigh, Durham, and Pittsboro offices).
Except for a few semesters since 2004, Mr. Boone has served as an adjunct professor at NC Central, teaching a course on professionalism and educating hundreds of students and future lawyers about ethics and civility in the profession. For a number of years, he participated in the training of students at Duke University's School of Law Pro Bono Project. Mr. Boone served for nine years as a State Bar councilor from the 10th Judicial District, all of them with service on the Ethics Committee. He was the first Legal Aid lawyer to hold such a position.
In 2004, the Legal Services community recognized Mr. Boone with the Julian T. Pierce Award "for outstanding advocacy ensuring equal justice for all." He was also honored with the "Legal Legends of Color" award in 2018 by the NC Bar Association "for serving as an exemplary role model in the North Carolina legal community," and, in a prior year, by the NC Association of Black Lawyers with its Community Service award. In 2014 the Wake County Bar Association awarded him its highest award, the Joseph Branch Professionalism Award.
Edward G. Connette
Edward G. "Woody" Connette graduated from Davidson College in 1974 and earned his law degree from UNC School of Law in 1977. After graduation, Mr. Connette relocated to Connecticut, where he worked for the Legal Aid Society of Hartford. He returned to North Carolina in 1980 and began working with Legal Services of the Southern Piedmont in Charlotte before entering private practice in 1984. In 2005, his former law firm merged with Essex Richards, where he now practices.
Mr. Connette has tried cases and appeals in federal and state courts, representing clients who have suffered catastrophic personal injuries, loss of family members by wrongful death, long-term disability benefit claims, and a wide variety of other litigation matters. He also has participated in class action litigation, including consumer, employment, shareholder, and civil rights class actions.
Mr. Connette became one of North Carolina's early ERISA litigators. He has spoken on a wide range of topics for bar and community groups, including national ERISA conferences, the North Carolina and South Carolina Bar Associations, American Advocates for Justice, and North Carolina Advocates for Justice. He has also taught trial practice skills for the National Institute of Trial Advocacy.
Mr. Connette has been an active member of the bar and served the legal community for many years. He currently chairs the Development Committee for the North Carolina Bar Foundation. In the past, he was appointed to the Chief Justice's Commission on Professionalism, served a three-year term on the Board of Governors of the North Carolina Bar Association, and has co-chaired the NCBA's Transitioning Lawyers Commission. He has also served on the Lawyers Mutual Charlotte Community Board, as well as the boards of Disability Rights North Carolina, Legal Services of Southern Piedmont, and Carolina Legal Assistance.
Mr. Connette has consistently demonstrated his commitment to the profession and to the public through his unwavering dedication to his clients, his civic leadership, and his commitment to providing access to justice. He serves as a model of kindness, mentorship, and professionalism to younger lawyers. In recognition of his many contribution to the legal community, Mr. Connette received the North Carolina Bar Association's H. Brent McKnight Renaissance Lawyer Award in 2010 and the Mecklenburg County Bar's Ayscue Professionalism Award in 2018.
Ashley L. Hogewood Jr.
Mr. Hogewood earned both his undergraduate degree and his law degree from Wake Forest University. After passing the bar in 1963, he joined the trust department of First Union Bank in Charlotte and completed active duty in the US Army Reserve. Mr. Hogewood entered private practice in 1965 with Louis A. Bledsoe Jr., later Berry and Bledsoe and Berry, Hogewood, Edwards and Freeman, until joining Parker Poe in 1987.
Governor Scott appointed Mr. Hogewood to a legislative study commission on education in the late 1960s. In 1978 he was elected to the Charlotte-Mecklenburg Board of Education, on which served for 12 years, including service as vice-chair and chair. Mr. Hogewood's years on the board were complex as Charlotte moved through various court-ordered desegregation plans. Mr. Hogewood and others helped usher in a time of advancement and support of public education in Charlotte-Mecklenburg. He later served on the Board of Trustees of Central Piedmont Community College.
Prior to school board service, Mr. Hogewood was appointed to the Mecklenburg County Board of Elections. He also served on boards for the Charlotte Chamber of Commerce, the Better Business Bureau, the Charlotte Area Fund, and the American Lung Association. In recognition of his community contributions, Mr. Hogewood received Mecklenburg County's highest award, the Order of the Hornet, in 1977.
Mr. Hogewood was the long-time chair of the Real Estate and Lending Practice Group at Parker Poe. Mr. Hogewood was real estate counsel to the City of Charlotte in connection with acquisition of the Charlotte Convention Center site, which involved navigating the rights of the North Carolina railroad to preserve trackage that later became routes for Charlotte's light rail transit system.
Douglas Carmichael McIntyre II
Douglas Carmichael "Mike" McIntyre II graduated in 1978 from the University of North Carolina at Chapel Hill, where he was a Morehead Scholar, and from the UNC School of Law in 1981.
He has volunteered in the classroom for 40 years, chaired Robeson County's Bicentennial of the Constitution celebration, served on the American Bar Association Young Lawyers Division's National Community Law Week Committee, and chaired the local Law Day Committee.
Mr. McIntyre hosted the Youth Leadership Summit annually for all of the schools in his congressional district, as well as taught his "Classroom from Congress on Citizenship" at schools across the region. He is co-founder of the McIntyre-Whichard Legal Fellows mentorship program at UNC Law. Selected as a fellow for the UNC Institute of Politics, he has helped teach seminars and classes to undergraduates about public service beyond partisanship. He founded the McIntyre Youth Leadership Challenge, which encourages students to practice the principles of good citizenship.
Congressman McIntyre served in the US House of Representatives for North Carolina's 7th District from 1997 to 2015, and now serves as senior advisor for government relations and economic development at Ward and Smith, PA, in Raleigh.
Mr. McIntyre was named a charter member of the North Carolina Pro Bono Honor Society by the North Carolina Supreme Court in 2016. In 2018 he received the Chief Justice I. Beverly Lake Jr. Public Service Award. Mr. McIntyre was chosen as Lawyer of the Year by North Carolina Lawyers Weekly in 2019. In 2020 Mr. McIntyre received the Liberty Bell Award from the Young Lawyers Division of the North Carolina Bar Association.
Bill Powers
Bill Powers graduated from NC State in 1988 and Campbell Law School in 1992. He handles DWI charges, criminal defense, and family law cases in Charlotte.
Bill is a board-certified Criminal Law Specialist by the National Board of Trial Advocacy/National Board of Legal Specialty Certification. He is also a member of the International Academy of Collaborative Professionals and the Charlotte Collaborative Divorce Professionals.
Bill is passionate about mental health and substance abuse issues endemic to the profession and enjoys teaching CLE. The depth of his empathy for others is evident in his article "I Lost A Client" recently published in the North Carolina Bar Journal.

Source: NC State Bar


Jay Reeves is author of The Most Powerful Attorney in the World. He practiced law in North Carolina and South Carolina. Now he writes and speaks at CLEs, keynotes and in-firm presentations on lawyer professionalism and well-being. He runs Your Law Life LLC, which offers confidential, one-on-one consultations to sharpen your firm's mission and design an excellent Law Life. Contact jay@yourlawlife.com or 919-619-2441.