First "B Corp" Law Firm in NC is Growing Fast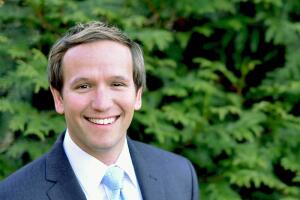 A commitment to "profits, people and the planet" is fueling the rapid growth of a unique North Carolina law firm.
The Forrest Firm – which began in 2011 and now has 32 attorneys and seven offices statewide – is the only certified B Corporation in North Carolina. It's also notable for its enthusiastic use of "of counsel" attorneys.
James R. Forrest launched the firm after seven years of practicing corporate and transactional law at a pair of large firms in Georgia and North Carolina. The Forrest Firm grew out of what he calls a "genuine desire for entrepreneurship."
The firm concentrates in business law, with an emphasis on representing non-profits and entrepreneurs.
The Forrest Firm will be one of the presenters at Lawyers Mutual's Managing Partners Summit on May 22.
Following are excerpts from an e-interview with James R. Forrest:
How were the seeds for your firm planted? "I am extremely grateful for my time at two distinguished law firms [Greenberg Traurig in Atlanta and Moore & Van Allen in Raleigh-Durham]. The mentors I had at those firms were fantastic. I was surrounded by really smart people who provided qualitatively excellent legal advice to clients. I launched the firm in 2011 because of my genuine desire for entrepreneurship – which I learned from observing and rubbing elbows with all of the great clients I was fortunate enough to work with over the years!"
What is a Certified B Corporation? "It means we have been independently certified by B Lab, a non-profit organization dedicated to using the power of business to solve social and environmental problems. Certified B Corporations meet and maintain rigorous standards for social and environmental performance, employee satisfaction, accountability and transparency. As a certified B Corporation, we are committed to a triple bottom line of 'profits, people and the planet.' That means that we aren't simply motivated by maximizing dollars or revenue in the short-term. Of course any viable business has to have a very real focus on return on investment. However, we are equally focused on creating healthy, sustainable environments for our people, as well as giving back to the communities we serve in meaningful ways."
How long have you been a B Corporation? "We received our B Corporation certification in the spring of 2016. Our firm is subject to periodic audits and assessments to maintain that status."
Does the state have anything to do with B Corp status? "No. There is sometimes a misconception here. While some states recognize benefit corporations as a type of legal entity, North Carolina does not."

As a B Corp, you consider your clients stakeholders. Why is that important? "I attribute most of our initial growth to treating clients the way that we would want to be treated ourselves. I think clients like to align with a law firm that shares their values. And with our three-fold mission, they benefit from our client-centered purpose, and enjoy working with professionals who are happy and spend time in the community and with their families."
Does B Corporation status affect your pricing and fee structure? "While we are similar to most other law firms in that we still bill by the hour for many projects, we acknowledge that a pricing model where our inefficiency is rewarded financially is problematic. We are committed to addressing that tension head on and communicating with our clients regularly about anticipated spend."
What are the benefits for your lawyers? "As we have grown, we have become equally committed to: (a) helping attorneys achieve the right work-life balance so that their careers are healthy and sustainable, and (b) providing a very high level of pro bono work and volunteerism within our communities."
What are your practice areas? "We made a shift a couple years ago to become a full-service law firm for entrepreneurs, businesses and non-profits. Our core practice areas include corporate/transactional law, commercial real estate, employment law, intellectual property, and estate planning and administration. During that time, we also decided to focus on becoming visible and active in all of NC's major markets – so we launched offices in Charlotte, Winston Salem, Greensboro, RDU and Wilmington. Our clients are extremely diversified, both in terms of size and industry."
You use "of counsel" attorneys. How does that work? "Currently six out of our 32 attorneys are of counsel. Those attorneys either (a) provide a skillset to our firm that is unique and/or useful to our clients, or (b) are licensed attorneys that have full time jobs elsewhere (either within business or law). A mutually agreed upon part-time role makes good business sense."
How do you coordinate your offices? "We have a 'work from anywhere' culture where many lawyers do not come into the office on a daily basis. We will never have the traditional watercooler work environment, but we work hard to create as much community as possible within that context. We use Slack, an instant messaging platform, to stay connected throughout the day (there is a watercooler channel). In addition, we hold monthly meetings with the entire firm (including support staff) physically on-site at a rotating venue, usually a client space or a community hub or non-profit partner. Last month we went go-karting."
What are you most proud of? "I'd say two things. First, the positive feedback from our clients and their appreciation of how we are striving to be different and serve them well. Equally as important to me are the handwritten thank-you notes from legal professionals who appreciate our focus on creating an environment where they can be a sophisticated practitioner without sacrificing the things in life that matter more to them – family, fitness, hobbies, community involvement, travel, etc."
Future plans? "We are bullish on the market opportunity in front of us and will hopefully grow into that at the right pace. I expect we'll need to continue adding people in order to meet client demands, but we're also focused on finding new ways we can increase our reputation as a great firm to work with both from a client's perspective and also every employee's viewpoint."
Click here for information or to register for Lawyers Mutual's Managing Partner Summit on May 22.
Sources:
Jay Reeves practiced law in North Carolina and South Carolina. During the course of his 35- year career, he has been a solo practitioner, corporate lawyer, legal editor, Legal Aid staff attorney and insurance risk manager. Today he helps lawyers and firms succeed through marketing, work-life balance and reclaiming passion for what they do. He is available for consultations, retreats and presentations (www.yourlawlife.com). Contact jay@yourlawlife.com or 919-619-2441 to learn how Jay can help your practice.