Firms Offer Debt Relief to Lure Top Talent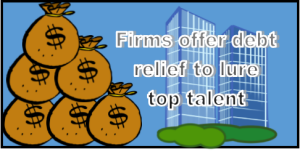 Some law firms are starting to offer relief on student loan debts as a perk for new hires.
Ward and Smith, a 91-person firm based in New Bern, is one of them. The firm is working with Gradifi Inc., a Boston company that tailors student loan payment programs for companies and, increasingly, for law firms.
"Summer associates that we wanted to hire began mentioning what a big burden student debt was," said Mike Epperson, the firm's chief operating officer in the New York Times. "They could have more than $100,000 in debt and they were worried. The firm already has a profit-sharing plan, but we decided that student loan repayment help was one more way we could show our younger attorneys that we wanted to help them from the very beginning."
Across the country in San Francisco, the 1,000 lawyer firm Orrick, Herrington & Sutcliffe is offering their new associates $100 a month for 18 months, followed by an opportunity for a bonus. Both career-track and partner-track associates are eligible. The program will be offered to about 40 lawyers per year beginning September 1, 2016.
"We expect quite a few of our lawyers will use the plan," said Siobhan A. Handley, Orrick's chief talent officer. "It's pretty rare that someone comes here with no debt."
An Orrick press release says it is the first large law firm to offer such a benefit.
The Times profiled one associate taking advantage of Orrick's debt relief program: James M. Fee, 27, of Needham, Massachusetts. He borrowed $150,000 to earn his degree from Boston College Law School. He joined Orrick's New York office in September. His monthly loan repayment is his second-highest expense after housing.
He said he was grateful to earn a good salary, but that things were still tight because of his debt load. The Orrick relief helps a lot, he said.
Luring Top Talent
More and more law firms are viewing debt relief as another benefit – along with flex schedules, parental leave and the like – to attract young lawyers.
It's a win-win situation. Obviously it's good for an associate struggling with tens of thousands of dollars in debt. But it's also good for the employer because it builds loyalty and deepens commitment. It also eases stress, which makes for a better, more productive employee.
"People have an emotional reaction to carrying debt, and they like it when employers show that they appreciate the financial challenges that people are facing," said Beth Akers, an economist at the Brookings Institution's Center on Children and Families.
"Our clients see it as a way to attract, and retain, new talent," says one executive with a financial management company with more than a dozen law clients wanting to set up a debt benefit program.
Perhaps the biggest drawback: law firm contributions are taxed as earnings. Several US Congressional proposals have sought to change that, but nothing has happened yet.
What are your views? Would a debt relief package sway you to one prospective employer over another? Send us a comment.
Sources: