Falling in Love With the Law Again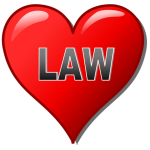 If you're unhappy in your career, it might not be the practice of law you hate – it might just be the type of law you're practicing.
The good news is it's never too late to change.
Take Jim Hart, for example. For years he practiced family law and workers' comp. He built a nice practice. He made money.
The only problem was he hated it.
So he did something that sounds easy but is actually terrifying: he quit. He was 40 years old and decided he needed to change professional gears.
Step 1: Work on Yourself
The first thing he did was take a look in the mirror. He saw that professional dissatisfaction had taken a toll on his physical health and mental attitude. He took steps to fix that:
"I started to focus on me and getting my act together," he writes on his blog. "I started working out again. I changed my diet and dropped 30 pounds. I'm feeling better than I have in a long time."
Step 2: Work on Your Practice
Next, he took a long, hard look at his practice. He realized, as perhaps you do as well, that he was stuck. He had become "branded" as a certain kind of attorney. This was how his friends, referral sources and other lawyers in the community knew him.
To move forward, he had to break out of that brand and chart a bold new course. Which is scary.
"My fear, and the fear that I suspect a lot of lawyers go through when they contemplate changing practice areas, was that I wouldn't have enough new clients to pay the bills, and my old clients would all fire me when they heard that I was switching practice areas.  Not to mention, it would be difficult to get new clients from both practice areas because of the lack of focus in my practice."
Step 3: Identify Your Passion(s)
A dramatic change in career raises real questions: Is this a good idea? Have I lost my mind? How will I pay my mortgage, support my family and maintain my accustomed lifestyle?
Hart faced the same concerns. He found answers by identifying what he really enjoyed about his profession. It certainly wasn't the day-to-day practice of law. It wasn't even practicing at all.
What he liked – and what he was good at – was the business of building and maintaining a viable practice.
"Building businesses is my passion. Talking to other business owners and helping them to protect and build their own businesses gives me energy and motivates me every day."
So he gave his own practice a makeover. He limited it to helping online businesses protect their intellectual property and build a sustainable business on the internet. And he started a website and podcast Legal Marketing Made Easy.
The result: he's excited again. He's feeling good. He loves what he's doing.
Legal Marketing Made Easy
You don't need a survey to know there's a lot of unhappy lawyers. Just talk to a few and you'll get the picture.
Hart's story suggests that some of this professional dissatisfaction may be specific, not general:
"If you are spending every day in criminal court – would you rather be doing transactional work? If you are an estate planning lawyer, would you much rather be conducting jury trials? If you are working at a large law firm, are you craving the freedom that comes from building your own law practice? I didn't hate being a lawyer – I love it in fact. I just hated the type of law I was practicing."
So take Hart. It's never too late to recapture the fire.
Source: JD Blogger http://jdblogger.com/1663/how-i-started-my-law-practice-over-at-40/
Jay Reeves a/k/a The Risk Man practiced law in North Carolina and South Carolina. He is a former Legal Editor at Lawyers Weekly and Risk Manager at Lawyers Mutual. Contact him at jay.reeves@ymail.com.