Essential Steps to Transition Your Law Practice the Right Way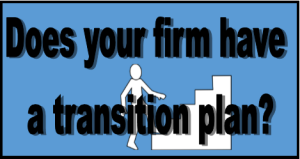 Does your firm have a transition plan? If you answered "no" to this question or paused for a second trying to figure out exactly what a transition plan is and how it works—this is the CLE for you. Join The Law Practice Exchange for "Essential Steps to Transition Your Law Practice The Right Way." The program will be held on Tuesday, August 15th from 8:30 AM – 12:15 PM at Banquet One located at 10616 Metromont Pkwy #100 Charlotte, NC 28269.
This program is great for solo practitioners and small firms who want to prepare for their firm's future. It's also ideal for attorneys who are looking at the potential of being a successor in their current firm as well as attorneys seeking to expand their firm geographically or expand practice areas.  This CLE program will help you navigate the transition process and figure out what "transitioning" looks like for you, your firm and your clients.
The four main facets for this program include:
Preparing for Sale or Retirement
Valuing a Law Practice
Expanding Through Acquisition
Implementing a Proper Succession Plan for Your Law Practice
Not many lawyers want to hear or think about the "R" word (retirement). This CLE helps attorneys paint a clear picture and begin laying the framework of what life after law looks like for them.  This program helps break down the myriad of options available to attorneys when thinking about transition and succession planning.
Register today and learn how to transition your law practice the right way! If you have any questions, please contact Amanda at The Law Practice Exchange:
Email: Amanda@TheLawPracticeExchange.com
Phone: (919) 789-1931 ext. 102
You can visit their website at: www.TheLawPracticeExchange.com