Employers Ditching Open Work Spaces for Traditional Offices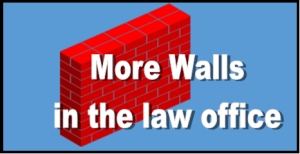 Good news for those of you who hate the idea of shared, open work spaces.
The pendulum seems to be swinging back to quaint, old-fashioned ideas like walls, doors and personal privacy.

About 70 percent of U.S. offices have no or low partitions, according to this source. The advantages are obvious. Open plans maximize space while minimizing costs. They encourage social bonding and teamwork. They allow the boss to keep an eye out for cellphone usage and napping at desks.
But the tide began turning in 2011, when organizational psychologist Matthew Davis published a comprehensive analysis of workplace design.
"He found that, though open offices often fostered a symbolic sense of organizational mission, making employees feel like part of a more laid-back, innovative enterprise, they were damaging to the workers' attention spans, productivity, creative thinking and satisfaction," says this article in The New Yorker. "Compared with standard offices, employees experienced more uncontrolled interactions, higher levels of stress, and lower levels of concentration and motivation."
A similar survey of 38,000 workers found that interruptions from colleagues hampered productivity.
And an oil and gas company in Canada commissioned a study that found "the new space was disruptive, stressful, and cumbersome, and, instead of feeling closer, coworkers felt distant, dissatisfied and resentful."
Blame It On Facebook
The open-office model originated in Germany in the 1950s, but its popularity exploded in the U.S. with the tech boom. Google and Yahoo were early adopters, as was New York mayor Michael Bloomberg, who said his famed "bullpen" promoted transparency, fairness and open accessibility to the chief.
The trend went mainstream when Facebook CEO Mark Zuckerberg hired architect Frank Gehry to design the largest open work space in the world to house the company's nearly 3,000 engineers. But even then the risks of cramming a bunch of geniuses together in a tight space were apparent, as this 2012 headline from Forbes suggested: "Facebook Unveils New Campus: Will Workers be Sick, Stressed and Dissatisfied?"
It turns out a sizable number of employees suffered all three.
"[T]he benefits in building camaraderie simply mask the negative effects on work performance," writes Lindsey Kaufman, herself a victim of shared space sickness. "While employees feel like they're part of a laid-back, innovative enterprise, the environment ultimately damages workers' attention spans, productivity, creative thinking, and satisfaction. Furthermore, a sense of privacy boosts job performance, while the opposite can cause feelings of helplessness. In addition to the distractions, my colleagues and I have been more vulnerable to illness. Last flu season took down a succession of my co-workers like dominoes."
Kaufman says her modern Tribeca office was stylish and airy. She admits she forged some unexpected bonds with co-workers. But she says the environment was "remarkably oppressive."
"Nothing was private," she writes. "On the first day, I took my seat at the table assigned to our creative department, next to a nice woman who I suspect was an air horn in a former life. All day, there was constant shuffling, yelling, and laughing, along with loud music piped through a PA system." 
A growing body of research backs up Kaufman's complaints. One survey found that in 90 percent of open workspaces, there were higher than average rates of stress, influenza, staff conflict and turnover. Another study showed that a worker's well-being increases 32 percent and productivity jumps 15 percent when you give them an office.
Do you work in an open office? Do you dream of one day having your very own office?
Sources: