Don't Tell Worried Client to Be Happy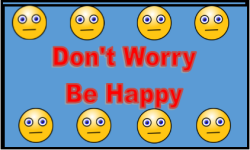 Here's a little free risk management advice: if a client repeatedly asks what's going on with their case, don't reply by telling them it's complicated and that you'd have to write a book to explain it all.
It won't make the client happy, and it might get you a grievance letter from the State Bar.
That's what happened to a Nebraska attorney, who over the course of five years responded to his client's repeated online inquiries with statements like "relax" and "be happy."
In a disciplinary proceeding before the Nebraska Supreme Court, counsel was charged with failing to adequately answer his client's questions and to explain what was happening regarding the status of the client's lawsuit. He was suspended from practice for 90 days.
According to the ABA Journal, the attorney answered his client's multiple Facebook inquiries by saying things like:
• Relax.
• I will take care of it.
• I will explain later.
• We are fine.
• Be happy. We are in the driver's seat.
• I'm busy right now.
• U realize we sued the wrong company right? We got the money from a company that had it. The correct company would never have had this type of money to pay our judgment.
• This is complicated.
• We've been busting our asses getting ready for this hearing.
• I can't explain the whole process.
Rule 1.4 Communication
(a) A lawyer shall:
            (1) promptly inform the client of any decision or circumstance with respect to which the client's informed consent, as defined in Rule 1.0(f), is required by these Rules;
            (2) reasonably consult with the client about the means by which the client's objectives are to be accomplished;
            (3) keep the client reasonably informed about the status of the matter;
            (4) promptly comply with reasonable requests for information; and
            (5) consult with the client about any relevant limitation on the lawyer's conduct when the lawyer knows that the client expects assistance not permitted by the Rules of Professional Conduct or other law.
            (b) A lawyer shall explain a matter to the extent reasonably necessary to permit the client to make informed decisions regarding the representation.
Comment 4 to this Rule says, "A lawyer's regular communication with clients will minimize the occasions on which a client will need to request information concerning the representation. When a client makes a reasonable request for information, however, paragraph (a)(4) requires prompt compliance with the request, or if a prompt response is not feasible, that the lawyer, or a member of the lawyer's staff, acknowledge receipt of the request and advise the client when a response may be expected."
The rule says clients should be given sufficient information to participate intelligently in making decisions about the case. The exact information required to meet this standard will vary from case to case. But it's safe to assume that saying "it's too complicated to explain" won't cut it under any circumstances.
How do you deal with client inquiries about their case?
Sources: