Don't Call It Bookkeeping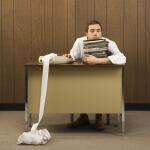 I've yet to meet an attorney who gets excited about bookkeeping.
They're interested in things like growing their practice. Working with clients, solving problems. Perhaps even technology and gadgets.
But bookkeeping? Yuk.
It's boring, repetitive and uninspiring.
It's also necessary. Indispensable. Without a solid financial foundation – which starts with bookkeeping – your practice is doomed.
Learning to Love Your Bookkeeper
Peggy Gruenke of Attorney at Work recently shared an article on how to turn our aversion to bookkeeping around.
It starts with a change in attitude. Consider the following questions:
Is my firm profitable?
How can I make more money?
Do I need to hire additional staff?
What can I afford to pay them?
Should I be spending more money on marketing?
How much?
Pretty basic questions, we would all agree. Essential to success. And yet we can't even begin to answer any of these questions without a clear grasp of where we stand financially.
That's why the unheralded bookkeeper just might be the most valuable player on your team.
"[T]he harsh reality is, somebody has to do the books. It's best to find a way to have them get done without pulling you away from the things that are most valuable for your business," writes Mickey Deming. "The place to start is to have a financial dashboard and reporting to let you know what adjustments you'll have to make and what resources are available at your disposal."
Tips for Top Bookkeeping
Do what you do best. Your job is to practice law, not balance the books. Delegate or outsource accounting tasks. Free up your time to drive business and serve clients.
Change your attitude. Don't assign bookkeeping duties to your lowliest staff member. Pick a key player you can trust. Schedule regular sit-down sessions to review bank statements and financial details.
Focus on expenses. You probably pay close attention to the money coming into your firm in the way of fees. But are you keeping equally close tabs on what's going out? Monitor your fixed expenses: staff payroll, rent and occupancy, equipment, malpractice insurance and outside professional services. Cut costs where possible.
Have a savings safety net. "The national average for law firms, according to one survey, is between 120 and 150 days - as much as five months," advises one business coach. "That means that a typical small firm should have funds sufficient to operate for at least six months without new billings coming in." 
Pay yourself first. The largest single expense for a solo or small firm should be your compensation. Keep this in mind as you prepare your firm's budget. 
Understand the basics of a Profit & Loss statement. The calculation is simple: billings – (expenses + compensation) = net profit.
Send bills and collect fees. Many solos bill on an ad hoc basis. A saner solution is to maintain a regular billing cycle and a running accounts receivable balance. The lesson cannot be repeated too often: cash flow and collections are the crucial determinants of business performance for any practice.
Who keeps the books at your firm? Are you satisfied with your systems and procedures? Drop us a line and share your experiences.
Sources:
Micky Deming, Director of Marketing at Kahuna Accounting http://kahunaaccounting.com/lets-not-talk-about-bookkeeping/

Attorney at Work Peggy Gruenke http://www.linkedin.com/groups/Three-critically-important-pieces-in-2691620.S.5924168636460711939?view=&item=5924168636460711939&type=member&gid=2691620&trk=eml-b2_anet_digest-hero-1-hero-disc-disc-0&midToken=AQGIfTg1JibXsQ&fromEmail=fromEmail&ut=1rVKoOoTFEgSw1
Jay Reeves a/k/a The Risk Man has practiced law in North Carolina and South Carolina. Formerly he was Legal Editor at Lawyers Weekly and Risk Manager at Lawyers Mutual. Contact him at 919-619-2441 or jay.reeves@ymail.com.