Does Culture Eat Strategy at Your Firm?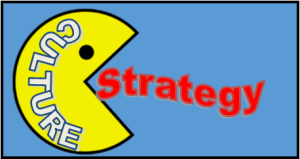 You might have heard the phrase "culture eats strategy for breakfast," but are you putting it to work in your practice?
The quote is from Peter Drucker, the guru of modern management theory, and has become a guiding principle for companies like Ford and IBM. But in law offices – which tend to emphasize planning, execution and results – culture can get overlooked.
Part of the problem is a misunderstanding of what "firm culture" actually means.
"Culture isn't inherently about work spaces and perks, like comfy chairs and ping pong tables," says Ben Kobulnicky. "It's about the habits people have formed, how they make decisions, how they respond to challenges, pressure and discomfort, and what they believe is good or bad for success based on what's been incentivized, rewarded, reinforced and possibly even punished in their workplace."
Culture Comes First
Business experts say firms that dismiss culture as a success driver do so at their peril. They might enjoy short-term gain, but will inevitably suffer long-term pain. That's because studies show a direct correlation between a healthy, productive culture and a company's bottom line.
"The majority of companies spend little time thinking, let alone doing anything about, this topic, even when they're spending lots of time thinking about their business strategy," says Torben Rick.
But even the healthiest of law office cultures is doomed without a sound, coherent strategy. The two principles are complementary. One feeds on the other.
Because of this synergy, management consultants say culture and strategy are indispensable parts of a whole. A firm's strategic plan should include cultural goals as well. When the strategy is reviewed in three to five years, the culture – which may have changed as a result of internal dynamics or external pressures – should be reviewed too.
Finding Your Firm's Cultural Sweet Spot
Some experts add a third element – capabilities – to the mix. A firm can have lofty values and a brilliant business plan, but it will go nowhere without the resources to make the magic happen.
"Strategy, capabilities and culture," says Rick. "All three need to be aligned and enabling of each other to create true organizational transformation."
The following questions can help shape your firm's culture, Rick suggests:
Where we going to play?
How are we going to win and differentiate?
What capabilities need to be in place to execute?
What are the cultural imperatives to enable differentiation and execution?
Firm culture is more than just an HR concern. It is a living, breathing thing. It is a North Star. It covers everything from annual profits to water-cooler conversations – and it can be hard to get right.
"[Y]ou can set whatever course for your business you want," says Kobulnicky. "But it will be your culture — what your people believe and how they behave — that determines what will get lived out in the work."
Sources:
Jay Reeves practiced law in North Carolina and South Carolina. During the course of his 35- year career, he has been a solo practitioner, corporate lawyer, legal editor, Legal Aid staff attorney and insurance risk manager. Today he helps lawyers and firms succeed through marketing, work-life balance and reclaiming passion for what they do. He is available for consultations, retreats and presentations (www.yourlawlife.com). Contact jay@yourlawlife.com or 919-619-2441 to learn how Jay can help your practice.