Do you have a transition plan?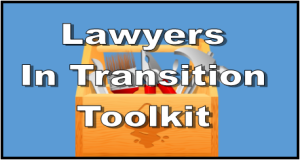 Lawyers' identities are often wrapped up in their profession. For many lawyers it's hard to imagine doing anything else other than being a lawyer. However, there comes a time when attorneys have to start thinking about their transition out of practice. What does transition look like? What does transition mean financially? When should you start thinking about a transition plan? There are so many things consider. Lawyers Mutual has an entire blog series devoted to helping lawyers in transition. Here's a look at our "lawyers in transition toolkit" blog series.
Part 1 - Get Your Mind Right
Part 2 - Imagining a Life Beyond the Law
Part 3 - When is it Time to Make a Change?
Part 4 - Finding the Right Words to Say
Part 5 - Don't Call It Retirement
Part 6 - Keeping the Law Practice in the Family
Part 7 - Come Up with a Plan Today for a Smooth Transition Tomorrow
Part 8 - Financial Planning Prepare a Financial Plan for your Transition
Part 9 - Health Planning Plan for Your Health During a Career Transition
Part 10 - Can't Afford to Quit
Part 11 - Time to Quit, But Don't Want To?
Part 12 - Build Deep Bench
Have you started thinking about a transition plan for your practice? Another great resource is the NCBA's Transitioning Lawyers Commission.