Define your Personal Brand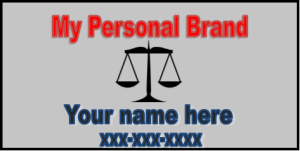 We typically hear the word "brand" when talking about goods and services. I am a strong advocate for personal branding.
Your personal brand encompasses your unique set of skills, experiences, values and relationships that both set you apart from others and lead to establishing new relationships.
You are always representing your personal brand. Your personal brand follows you no matter what career path you choose. The great thing about your brand is, you're in control and can always reinvent yourself.
Here are some tips for defining your personal brand:
Have a mission statement. A mission statement will help you clearly define your "why." When developing your mission  statement think about what sets you apart, why you're doing what you do and why it matters.
Take a look at this example from Computer Sciences Corporation (CSC):
"CSC's mission is to use our extensive IT experience to deliver tangible business results enabling our clients in industry and government to profit from the advanced use of technology. We strive to build long-term client relationships based on mutual trust and respect."
Remember: Your mission will focus on the "who, what and why." You will examine the "how" when developing your goals.
Set Goals and objectives. Your mission statement is the foundation of your brand. Once you've established who you are and what you want to do; goals and objectives allow you to think about how to carry out your mission. A huge part of setting goals and objectives is knowing the difference between the two. Goals as defined by www.differencebetween.net are "long term aims that you want to accomplish." Objectives are "concrete attainments that can be achieved by following a certain number of steps."
Here are examples of both:
Goals: "I want to take advantage of more networking opportunities and improve my social media presence."
Objectives: "I want to attend 3 networking events next month and tweet 3 times a day weekly."
Network. Networking is very important in building brand awareness for your personal brand. In the same way that you would represent your firm, do the same for yourself. It's always a good idea to send LinkedIn invitations to new connections in order to stay in touch and give them a chance to get to know more about you through your LinkedIn profile.
Link In. There are some people who are not big on social media. However, it's important that you join LinkedIn. LinkedIn gives you a chance to provide a snapshot of your personal brand. LinkedIn allows you to network with those who share your interests and make new connections. You can establish yourself as a thought leader and valuable resource to others by joining groups and being active on message boards.
Blog. Blogging gives your brand a "voice." Blogging is your chance to showcase your brand through your thoughts and in your own words. A blog is a great way to establish yourself as an innovative and independent thinker and allows you to expand your reach as your following increases.
Be Present. Maintaining your brand awareness is just as important as building it. You can possess a plethora of great qualities, but if no one knows who you are; it doesn't benefit you or those who may potentially call upon you for assistance.
Building and maintaining your brand awareness begins with you.
Once you've defined your brand, you'll be able to navigate your personal and professional life with a clear focus.Your personal brand success lies in your ability to recognize and create opportunities as well as knowing when it's time to re-brand.
Sources:
http://www.missionstatements.com/fortune_500_mission_statements.html
http://www.differencebetween.net/business/difference-between-goals-and-objectives/
Recommended Reading (these titles are available in the Lawyers Mutual Lending Library):
"Reinventing You" by Dorie Clark
"Personal Branding for Lawyers in One Hour" by Katy Goshtasbi