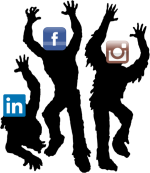 Your Digital Self Lives on After You're Long Gone
Have you given any thought to what happens to your Facebook page, Instagram account and online data after you're gone?
You might want to.
Long after you have physically departed this mortal coil, your digital alter ego will stagger on. This could cause a raft of potential problems for your friends, family, co-workers – even clients.
"Almost without realizing it, we have shifted toward an all-digital culture," says the book blurb for Your Digital Afterlife. "Future heirlooms like family photos, home movies, and personal letters now exist only in digital form, and in many cases they are stored using popular services like Flickr, YouTube, and Gmail. These digital possessions form a rich collection that chronicles our lives and connects us to each other. But have you considered what will happen to your treasured digital possessions when you die? Unfortunately the answer isn't as certain as we might presume. There are numerous legal, cultural, and technical issues that could prevent access to these assets, and if you don't take steps to make them available to your heirs, your digital legacy could be lost forever."
Dawn of the Data of the Dead
Yahoo tech writer Dan Tynan recounts how he was recently online and stumbled across photographs, websites and a Flickr account for one of his best friends.
The unnerving part was that his friend had died years earlier. And yet there he was, big as life, in digital form.
"This is a problem all of us on the Internet will encounter eventually, whether we want to think about it or not," Tynan writes. "What can go wrong? Lots. Your loved one may have died leaving photos and videos behind that you can't get to. He may have locked essential financial or other information away with passwords and not left those with you. She may have online financial accounts with money or credits leftover, or social media accounts that continue to generate painful reminders of her absence."
Not to mention the cyber-security risks. Each year, the personal data of more than 2.5 million deceased individuals is purloined by hackers and identity thieves, according to some accounts.
Facebook Legacy Account
You can bet social media providers are aware of the problem. Some are taking steps to address it. In February, for example, Facebook released a new feature that lets people designate a family member or friend as a legacy contact to manage their account after they die.
Here's how it works:
"Once someone lets us know that a person has passed away, we will memorialize the account and the legacy contact will be able to write a post to display at the top of the memorialized timeline (for example, to announce a memorial service or share a special message); respond to new friend requests from family members and friends who were not yet connected on Facebook; update the profile picture and cover photo. If someone chooses, they may give their legacy contact permission to download an archive of the photos, posts and profile information they shared on Facebook. Alternatively, people can let us know if they'd prefer to have their Facebook account permanently deleted after death."
Steps For Protection
The website The Digital Beyond offers a comprehensive list of online services – including digital estate services, posthumous email services and online memorials – to help people plan for their digital death and afterlife.
Meanwhile, here are some ways to protect yourself and bring peace of mind:
Talk about this issue with your IT manager.
Develop a Digital Afterlife policy for your firm.
Check with your business insurance provider to see if any policy provisions are applicable.
Make an inventory of your digital assets.
Make a record of all online passwords and use a "password lockbox" or other method to safely store them.
Designate a digital executor.
Have you had an issue regarding digital afterlife? Please send us a comment. We'd love to hear about it.
Sources
Jay Reeves a/k/a The Risk Man is an attorney who has practiced North Carolina and South Carolina. Formerly he was Legal Editor at Lawyers Weekly and Risk Manager at Lawyers Mutual. Contact him at 919-619-2441.