Cyber Protection Now Available For NC Solos and Small Firms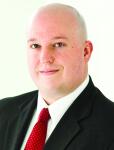 Think cyber-insurance is something only big firms need – and can afford?
Think again.
"We've got insurance solutions every lawyer can afford," says Adam Pierce of Lawyers Insurance Agency. "Premiums have come down dramatically. We've got policies for as low as $400 per year."
In his more than 15 years in the industry, Pierce has worn a variety of hats, ranging from underwriting to sales. But he sees his role a bit differently when it comes to cyber-coverage.
"Like anyone, I don't like to be sold things," he says. "I like to consider myself a consultant to assist law firms. We've been doing cyber insurance four to five years. At first, law firms weren't ready for it. Now I get excited about being able to provide a real solution for a real problem and prevent what could have been disaster."
What about price?
"This product is accessible for solos where it wasn't before. Premiums are lower, deductibles are lower and the application process is easier. We've solved lots of problems."
Lawyers Insurance Agency is the endorsed insurance provider for the N.C. Bar Association.
7 Things Every Lawyer Should Know
A survey of recent headlines might suggest cyber crime is something only big corporations need to worry about. But the truth is 30 percent of victims are small businesses. Solo and midsize law firms are prime targets.
Here are seven steps to cyber protection and peace of mind:
Get a free education today. "I get a lot of folks who say, 'Hey I want cyberinsurance,' but what they are really worried about is their bank account getting hacked. They're worried about funds being stolen. I always ask first what they mean by cyber coverage so we're on the same page. It's all about data being compromised. What we do first is chat. I learn about your firm and identify your concerns or needs. Real estate practices are different than others, for instance."
Understand how a cyber policy works. "There are two parts to the policy. The first part is liability coverage. This pays for defense costs and loss. Hopefully it never gets to this point. The other part is first-party coverage. Another way to describe this is breach response. When there's a breach, it can run the gamut from IT forensics to notifying all clients, protecting the identities of clients. This is the response part."
Applying is quick and simple. "It's really easy to apply. Depending on which carrier we go with, you're looking at a10-15 question application. You'll probably spend more time filling out your name and contact info than answering the questions. You might be able to apply and print out your policy online. Renewal is basically the same process. A few updates and you're done."
You probably already qualify for coverage. "There are some minimum requirements, such as basic password protection, antivirus, malware. The policy might require some sort of firewall. Most people have these things whether they know it or not. I've yet to have a firm say, 'No we don't have these things.'"
You can get a quote in minutes. "The main thing I need to know is your firm revenue. If I have that I can give you a quote."
Beware of ransomware. "A big concern now is ransomware. But the threat is always changing. Here's a new scenario. Someone hacks into your system, getting data, and they put in ransomware as a decoy. The idea is to make you think it's just ransomware. They try to hide the fact that they've been in the system gathering data. The point is that we will continue to see new and different threats."
You don't have to have professional liability coverage to get a cyber policy. "We decided the best way to go was with a separate policy through Travelers, AIG, Lloyds etc. The companies we use are very good at cyberclaims."
Even now, cyber-criminals are busy figuring out new ways to break into your computer system. A cyber liability policy will make sure you're safe.
"We can't always predict what will happen next," says Pierce. "But we're good at seeing what is happening and knowing what to do about it."
For more info:
Lawyers Insurance Agency http://www.lawyersinsuranceagency.com/
LIA Cyber Liability http://www.lawyersinsuranceagency.com/service-areas/business/cyber-liability